You may have been thinking "com'on Anne-Sophie, no article since last week? What's wrong with you?!" – nothing wrong let me reassure you (apart from the death of my beloved phone) … Pretty much the contrary actually! I was away for a quick malted escape in Scotland – 4 sunny days in a row (not joking, you'll see the pictures in an upcoming article…), enjoying dramatic landscape and dramtastic whisky! 
Arrived in Glasgow on Saturday, we made our way straight to Oban, and after a peaceful night and seafood platter in this picturesque Scottish harbour city, we embarked the next day on the first ferry to Mull to visit the charming Tobermory Distillery (which is unfortunately stopping production for a wee while…).
I can't really tell you anything about the touristic offer there as we had the amazing opportunity to be shown around the distillery privately, by the lovely Allison who's been working there since 10 years.
Established in 1798, Tobermory Distillery is the only distillery on Mull and one of the oldest commercial distilleries in Scotland and produces two different single malts: the fruity, unpeated Tobermory and the more robust and smoky Ledaig.
If you have a look at the below pictures, you'll see different aspects making the distillery unique: have you seen the shape of those still necks? Did you know that the tiny window in the still room overlooking Tobermory was the only place in the village where you'll have this stunning view? Did you know that Tobermory had a really complicated history and was almost meant to disappear? For more fun facts and history, click here 🙂
So you may be wondering what we tasted? We had the chance to enjoy a remarkable whisky & chocolate pairing starting by Tobermory's flagship 10-year-old expression combined with a crunchy ginger dark chocolate, as yummy as you can imagine… Next drams were a Tobermory 21yo Manzanilla (which I already reviewed here) & passion fruit chocolate, a floral and slightly smoky Ledaig Vintage 1996 & a rose chocolate (a match made in Heaven) and a Ledaig 19yo paired with a delightful Walnut/Marzipan chocolate (oh my…)
As one can never have enough of those liquid delicacies, we finished our tasting session with the current distillery exclusive bottling, a Ledaig finished in Port cask… Jeez… Look out for this one if you're visiting soon!
Overall, a wonderful experience and a wee crafty-style distillery with old features that I would strongly recommend you to visit if you're planning a trip on Mull!
As usual, I leave you with some pictures of my visit!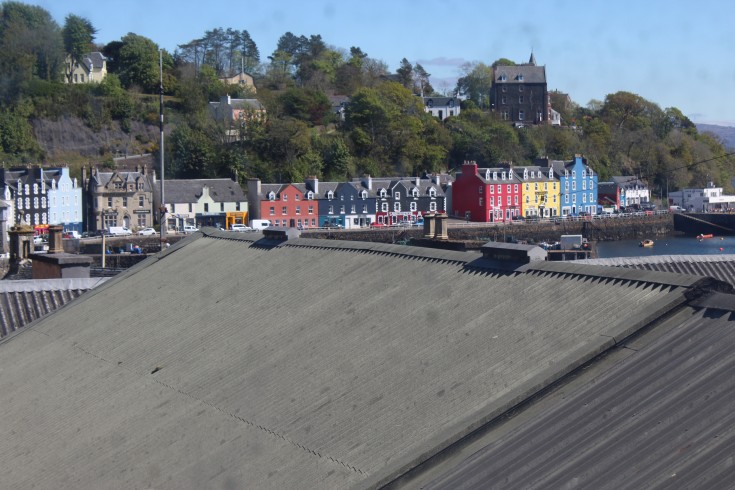 Please add social media services by going to 'Theme Options > Social > Add share services'