I recently developed a huge interest for rye whisk(e)ys. Well, I did like a good rye before but never really had time to dig deeper into this specific category, now that I've been growing a passion for this delicious spicy beverage (which is also quite versatile – as yummy neat, in a long drink or a more sophisticated cocktail); here's my personal list of must-try Ryes!
First batch ever of Finnish rye whisky for retail markets. Kyrö Single Malt Rye is made from 100% malted wholegrain rye. A release of only 315 bottles but I had the chance to receive a sample and oh boy… This is amazing stuff!
A straight rye whiskey from the Michter's Distillery in Louisville, Kentucky. Every bottle of their excellent rye comes from a single barrel, highlighting the quality of their craft. A top choice for cocktails – we're particularly interested in making a Sazerac with some of this!
Dad's Hat Pennsylvania Straight Rye
Straight rye from the Dad's Hat range, made with locally harvested grain from Pennsylvania and aged for at least 3 years before bottling at 47.5% ABV. Boasting all those yummy spices you're accustomed to finding in rye whiskies, with a good helping of creamy vanilla sitting right at the core.
Sonoma County Black Truffle Rye
California's Sonoma County Distilling Co. are well-versed in creating inventive spirits, and they've really gone for it with this one – Black Truffle Rye. What they've done here is create a rye spirit and allowed some Black Périgord truffles all the way from France to infuse into the spirit. It's safe to say that we haven't seen anything like this before. Very intriguing.
St George 2yo – That Boutique-y Rye Company
An independently bottled 2 year old rye from Californian craft distilling pioneers, St. George Spirits, bottled by That Boutique-y Rye Company! Cast your mind back to 1982 and you may remember that Time Magazine didn't crown a Person of the Year that year. They actually crowned 'The Computer' as Machine of the Year. While some of you may see that as an invitation for robots to rise up and take over the world, That Boutique-y Rye Company clearly agree that Machine of the Year was the right choice for 1982, but they would have chosen a different machine – Jörg Rupf's still, with which he founded St. George Spirits in 1982 and became a trailblazer of the American craft distilling movement!
Batch 1 is a release of 400 bottles.
With an ample proportion of rye in its mashbill, along with corn and malted barley, FEW Rye is a fantastic example of top-notch American craft distilling. It comes from Evanston, Illinois, a city that suffered Prohibition for over one hundred years thanks to many of its advocates hailing from its dry streets. In fact, FEW rather cheekily takes its name from the initials of Frances Elizabeth Willard, a key figure in the Temperance Movement.
Thankfully, Evanston is now home to this excellent craft distillery, producing a plethora of incredible spirits! A spicy, fruity, delicious spirit drink – as you might expect, FEW Rye makes a mean Manhattan…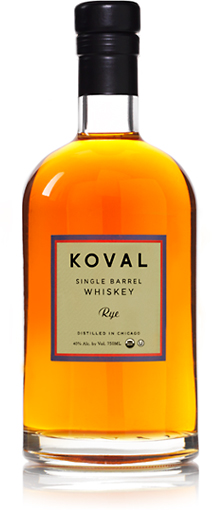 Made with 100% rye, which Koval source locally, this is a single barrel release aged in American oak from Minnesota.