This year's TFWA World Exhibition and Conference sees William Grant & Sons (WGS) refining its global travel retail portfolio with new and refreshed packaging in key collections. The stand (Golden Village GO2) retains its open and friendly atmosphere, inviting customers to view a compelling portfolio that continues to excel in creativity and innovation, alongside examples of its unique brand activations from Hendrick's Gin and Monkey Shoulder Whisky.
William Grant & Sons Global Travel Retail Managing Director Ed Cottrell says that this year's event is as important as ever. "This year sees the emphasis on creative new packaging and presentations for existing brands with some very relevant brand updates that reflect customer feedback," he says. "We will also be previewing a number of exciting developments for next year that continue to exemplify the importance that William Grant & Sons places on Global Travel Retail and our original, inventive and contemporary approach."
One highlight is the new packaging for Glenfiddich Cask Collection, which remains exclusive to global travel retail. "We are continually refreshing and revitalizing the Glenfiddich offer and this move reflects the ongoing evolution of the Cask Collection range, ensuring relevancy to our core consumers. The new look aims to strengthen the collection's visibility on-shelf and enhances the premium cues of the range whilst reinforcing its contemporary appeal".
William Grant & Sons will also be revealing a new pack for Drambuie Scotch Liqueur – a brand that it sees as offering tremendous potential within the category. "Drambuie is our secret and I am really excited about it! It has a strong brand identity and brilliant distribution," continues Cottrell.  "Since acquiring the brand in late 2014 we have been examining the best ways to re-engage with existing drinkers and to connect the brand with an entirely new generation of consumers. First stage is to introduce a new upgraded presentation that we will be showing to our customers in Cannes."
In addition, new 50cl packaging will be introduced for Tullamore D.E.W Cider Cask Finish Irish whiskey and Tullamore D.E.W. Phoenix Irish whiskey – both exclusive to global travel retail, giving travellers the differentiated offer they are looking for. Perfect for impulse purchasing or gifting, these 50cl packs are a superb introduction for consumers to Tullamore D.E.W.
BROWN-FORMAN TO UNVEIL NEW STAND AT TFWA CANNES
In a significant shift in its commitment to the duty free industry, Brown-Forman will unveil a dramatic new exhibition stand at the TFWA Show in Cannes this fall.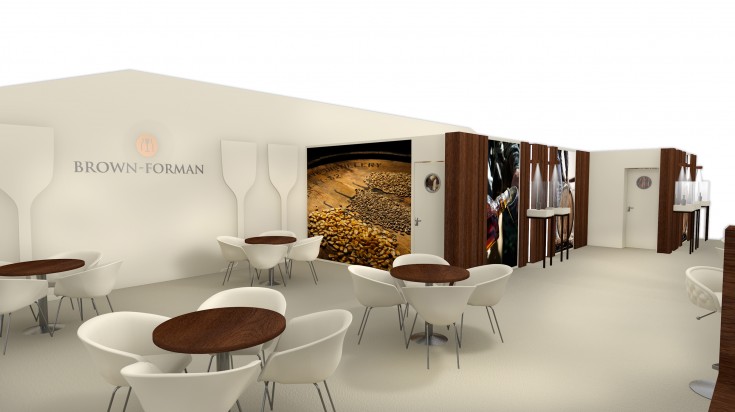 Designed to showcase the company's travel retail portfolio with particular emphasis on its American whiskies and recent Irish and Scotch acquisitions, the stand will also provide a pleasant, comfortable and efficient environment for the Brown-Forman team and their suppliers and customers to socialize and conduct business.
"We are very pleased with the appearance of our new stand and the environment it will offer us in Cannes.  Our decision to move to a freestanding location on the grounds of the Palais and away from the space we have occupied on the lower level for nearly the past two decades is just another example of the increased commitment Brown-Forman is making to the global travel retail industry," said Marshall Farrer, vice president and managing director, Brown-Forman Global Travel Retail.
The location for the Brown-Forman stand at TFWA in Cannes is Beach Village (B06), just west of the main entrance to the Palais.
The Brown-Forman team worked closely on the design and construction of the new stand with Pentalpha, the veteran UK-based exhibition consulting firm.
The new Brown-Forman stand is more than double the size of our former stand and has informal gathering space as well as a large number of meeting tables and four meeting rooms.  As has been in the case in the past, the new bar area will be a focal point of the stand and will be a great place for socializing, entertaining and relaxing," Farrer said.
The new stand boasts a rich, but very inviting interior and will feature photography and artwork on the walls that will visually showcase Brown-Forman's authentic history and craftsmanship as the leader in American Whiskey.
Brown-Forman Executives to Hold News Conference at TFWA
Marshall Farrer, vice president and managing director for Brown-Forman Global Travel Retail, and Campbell Brown, president of Old Forester Bourbon, will conduct a joint news conference at theTFWA Conference in Cannes.  It will be held on Monday, October 3, 2016, at 12:15 on the new Brown-Forman Stand (Beach Village – B06).
Farrer and Brown joined the Brown-Forman Board of Directors this year and are members of the Brown family.  They will be joined in Cannes by their cousin, Robinson Brown, Brown-Forman's regional director India, Middle East and Africa. All three are among the fifth generation of Brown family members to work at Brown-Forman.  Brown-Forman was founded in 1870 by George Garvin Brown, their great, great grandfather.
Also attending the news conference will be Billy Walker, the master distiller for BenRiach, GlenDronach, and Glenglassaugh distilleries, Alex Conyngham, founder of Slane Irish Whiskey, and Chris Morris, Brown-Forman master distiller and recent inductee into the Whiskey Hall of Fame.  Several additional Brown-Forman senior executives will be making their first visit to the TFWA Conference in Cannes and be at the news conference.
This is only the second news conference Brown-Forman has ever conducted at the TFWA Conference in Cannes.  The first occurred in 2013 to introduce Jack Daniel's Sinatra Select.  That news conference was attended by Frank Sinatra, Jr.
Please add social media services by going to 'Theme Options > Social > Add share services'