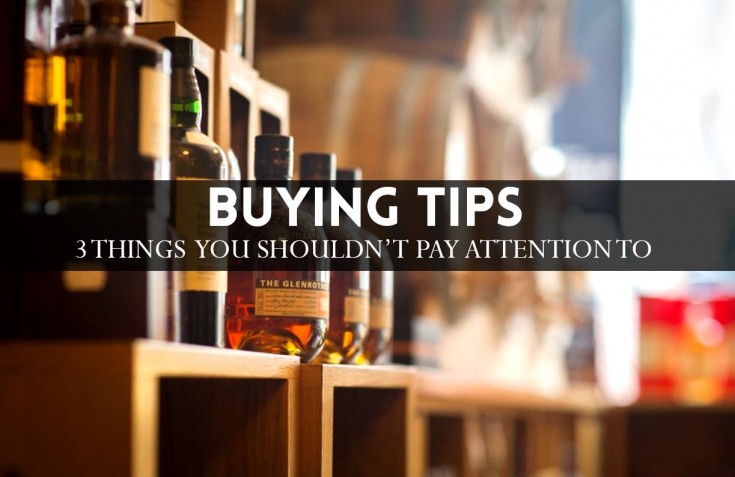 You probably know how to read a whisky label by now (we discussed this a few months ago), but I still wanted to focus on some mentions you'll find on many whiskies which should be taken with a lot of distance…
–> 'Premium", "Rare" or "Deluxe" : it has actually turned into a "no-go" for me, each time I see a bottling with such a mention on the label, I'm put off straight away. I don't understand that marketing services are still using this selling strategy to be honest, as when I read "Premium", I've got my instant personal bullshit converter turning red and screaming "DON'T BUY ME!". Especially when this "deluxe" mention is the only piece of information you'll have…
Don't get fooled, some packaging may seem more appealing and luxurious than others with their golden letters, it doesn't mean the content is better than this less attractive bottle with just a white label and so much blabla writen in small cases: the more information the better !

–> Region : I do understand regional classification is a pretty handy tool when starting your whisky journey, and I do use it quite often when introducing people to the joys of the amber nectar – to a certain extent though. I've already expressed my views regarding "Scotch regions" in this article – Islay isn't only about peat nor the Lowlands about light and floral malts, Highlands flavours can go from Balblair, AncNoc to Old Pulteney and Oban while Speyside comprises so many different distilleries that talking about a common style is a freaking nonsense.
So once again, don't be this person looking for a peaty malt and going for an Islay whisky at all costs – because you could end up with a Bruichladdich and be quite surprised. 😉

–> Tasting notes : by essence, tasting is a very subjective matter – while a general flavour profile can be a good indicator (peaty, smoky, fruity, sweet, light…) when buying a bottle, don't take full tasting notes for granted. You don't get those rosemary honey notes in the nose? You're not a loser, you simply are a different person with a different palate, and that's ok!
My point is, don't choose a bottle on the shelf purely based on tasting notes because it's not an objective criterion you can rely on. I've never been a fan of long detailed notes on labels as they will inevitably influence your own tasting experience (not your fault, our brains are impressionable beasts…) and can ruin the magic of whisky sometimes…
_____________
Cover Pic: greatergrassmarket.co.uk