"how do you get those rosemary honey notes on the nose or those honey-glazed bacon aromas, I can say it's peaty and herbal but that's it!"
I got asked this quite a lot during tasting sessions and I see plenty of you feeling a bit discouraged by whisky geeks' tasting language… No, none of us whisky freaks are born with a perfect palate, we've learnt to taste. Don't freak out, it's actually an easy and accessible exercise! Here are a few advices to help you improve your whisky tasting skills.
Taste memory is very important –> Nobody's born with the ability to decipher all the different aromas in a dram, it's a process you'll learn along the way while diversifying your culinary experiences – so yes, let's be honest, if you've been living on Big Mac for years, you'll have less chances to detect those subtle star anise notes in the finish of your whisky… But you're not a lost cause either (well, your health probably is but hey…), you'll need to start building an aroma bank in your mind, the more diverse the better!
Start by saying yes to your old Cuban friend from college inviting you over for dinner, wake up early and go to your local farmer market to smell and taste new flavours, travel as much as you can (even if it's only to visit your great aunty a few hours drive away, regional specialities can be pretty exotic for your taste buds, especially in countries like France or China…) To sum up – try everything you can. One experience at a time, you're building your personal aroma bank, then, when you'll next find yourself in front of a dram, you may have more to say than "peaty and herbal".
Curiosity is crucial –-> Like in many fields, curiosity is probably the number 1 quality of whisky experts. Don't stick to what you already know, what you're comfortable with. Always challenge yourself: try this new make spirit from Finland or this Tobasco-finished rye. Taste the unexpected, venture off the beaten tracks of your usual whisky routine.
Collect tasting experiences –> I'm not encouraging you to drink whisky on a daily basis at all (I'm not telling you the contrary either, you do whatever you want, I'm not your mother and I don't like children anyway… ;)) but attending whisky tasting sessions regularly is still the best way to taste new drams you may not have necessarily access to. Again, this is a matter of diversifying your tasting experiences. More importantly, you'll be able to share your feeling with like-minded individuals, and this is priceless to improve your whisky tasting skills!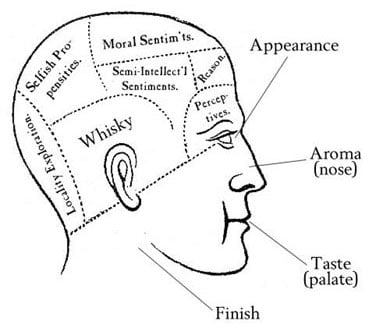 Avoid saturation –> While collecting tasting experiences, always try to avoid saturating your taste buds by drinking 10 drams in a row. There's no point really, you're not yet judging the World Whisky Awards 😉 – Allow some time to process each whisky, getting to know a dram takes more implication than a one-night stand – let you whisky sit in the glass for a wee while, spend some time nosing then tasting it, let it grow in you…
It's also important to respect a certain order if you're to taste several whiskies: don't start with cask strength or heavily peated drams…
Water is your friend –> Yes, those water droppers on the table have a purpose! Adding a few drops of water in your dram will help to open it up and express new flavours. My advice here would be to first taste your whisky neat, then with water, 2 very different experiences (then, again, it's all a matter of personal taste).
Challenge your senses –> I'm no scientist at all to tell you how and why, but many aspects can bias your tasting experience: the colour of your dram, knowing the distillery it comes from or the cask it's been matured in… Even people around you expressing their impressions can influence your own feelings. My advice here: try blind tasting, even if a group tasting, why not writing down your notes on a piece of paper and compare with the others afterwards? Again, there's no wrong or right answer when it comes to such a subjective thing as tasting notes!
OVERALL, DON'T TAKE IT TOO SERIOUSLY !
_____________________________________________
Pics via Master of Malt & fdm-travel.dk