Port X Whisky: The Dalmore releases three-bottle Vintage Port Collection
In the year that The Dalmore's legendary Master Distiller Richard Paterson celebrates his 50th year in the whisky industry, The Vintage Port Collection is the latest in a long line of ground-breaking releases from the iconic whisky producer.
Crafted using the finest aged Port pipes from renowned winemakers W&J Graham's, Paterson's unrivalled knowledge of the cask maturation process has been applied to full effect in creating a unique collection of port-finished vintages from 1996, 1998 and 2001.
Reflecting the pioneering heritage and artistry which has helped The Dalmore define the luxury single malt category, The Dalmore Vintage Port Collection is matured in American white oak ex-bourbon casks, creating a pristine canvas for Richard to create this uniquely finished collection.
Tawny Port pipes from Graham's vineyard in Douro, Portugal add the finishing touches to the collection, using pipes reserved exclusively for The Dalmore. Graham's signature port palate perfectly matches the depth and quality of The Dalmore's complex new make spirit, enabling the spirit to be matured for longer in a greater variety of casks.
The collection's oldest expression is the 1996 Port Vintage. A whisky which is indulgent and smooth, it offers a palate of Gingerbread and passion fruit, with a finish of pineapple, marzipan and blood oranges.
The 1998 Port Vintage comprises a fruity palate of honeyed bananas, blueberries and grapes, with Damson plums and dark treacle providing a depth to the finish. The final member of the collection is the 2001 Port Vintage which offers a spicier aroma and a palate of morello cherries. A coffee finish is accompanied with hints of Turkish delight and figs.
The collection will be available to purchase from selected whisky retailers.
Richard Paterson, Master Distiller at The Dalmore added: "For me, port and whisky complement each other perfectly, with port providing a fruitier palate to The Dalmore's deep and complex new make spirit. Being able to finish these new releases in pipes of Graham's port, which are some of the finest quality, during my anniversary year is incredibly exciting. I'm delighted to be able to continue our founder's vision of creating new expressions that push the boundaries of what's possible in the luxury single malt category."
Official Tasting Notes: Vintage 1996
Aroma: Blackcurrants, rich coffee beans and praline chocolate
Palate: Gingerbread, Damson plums and passion fruit
Finish: Caramelised pineapple, Sanguinello blood oranges and marzipan
ABV: 45%
RRP: £450
Official Tasting Notes: Vintage 1998
Aroma: English marmalade, Satsuma plums, vanilla and blackcurrants
Palate: Honeyed bananas, blueberries and grape
Finish: Damson plums, dark treacle and Christstollen cake
ABV: 44%
RRP: £200
Official Tasting Notes: Vintage 2001
Aroma: Exotic spices, cinnamon, raisins and tangerines dipped in chocolate
Palate: Caramelised peaches, freshly baked bread and Morello cherries
Finish: Turkish delight, figs and coffee
ABV: 40%
RRP: £150
Scottish distilleries are welcoming more and more visitors
Whisky tourism has enjoyed another boom year with more visitors than ever making the pilgrimage to Diageo's Scottish distilleries, according to new figures.
In the 12 months to June, the number of tourists visiting Diageo's 12 distillery visitor centres passed the 400,000 mark for the first time, with a total of 409,908 people visiting.
This continues a trend of consistent year-on-year growth in visitor numbers over the past decade, with the global drinks giant's Scottish distilleries now attracting more than double the number of people they did eight years ago. (read more)
Auchentoshan unveils Bartenders' Malt
Auchentoshan has teamed up with bartenders to create a single malt for, you guessed it, bartenders.
The limited edition Bartenders' Malt is the first of its kind for the brand.
Every single element – from the selection of cask liquids to the packaging and branding of the expression – was controlled by the New Malt Order bartenders (below).
To familiarise you, the New Malt Order was a competition to hero bartending talent. Five countries were invited to create their own bitters using Auchentoshan new make spirit. The shortlist was judged by a panel in each country to identify the lucky 12.
The winning bartenders were invited to the home of Auchentoshan in Glasgow to meet the rest of the Order for a five-day immersion into the city and the brand.
After a crash course from the brand's master blender, the Malt Order set about creating its blend. (read more)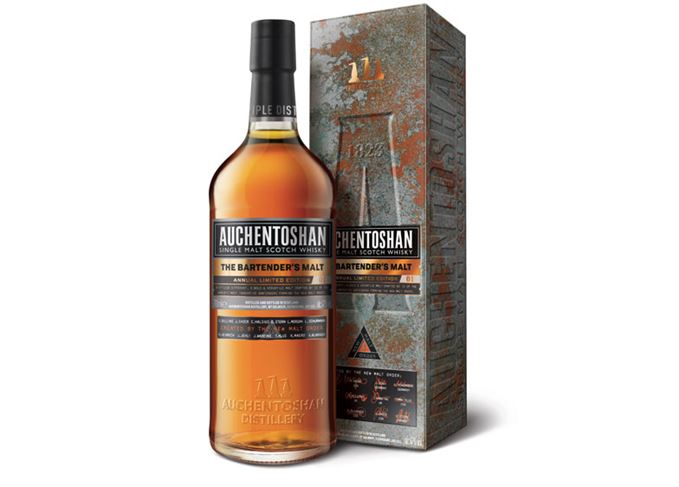 Bunnahabhain releases 46-year-old expression
Bunnahabhain Eich Bhana Lìr – meaning the great waves of the god Lìr – was distilled in 1969 and spent its entire maturation period in second-fill oloroso Sherry butts in Bunnahabhain's warehouse number four.
Bottled at 41.8% abv, the expression is said to have a flavour of beeswax, candied orange, roasted nuts and Manuka honey. Just 198 bottles have been released at an RRP of £5,000.
Bunnahabhain, owned by South African drinks group Distell, has also unveiled a further three limited edition whiskies, which will launch in the coming months. (read more)
CLICK HERE TO PUT YOUR HANDS ON A BOTTLE 😮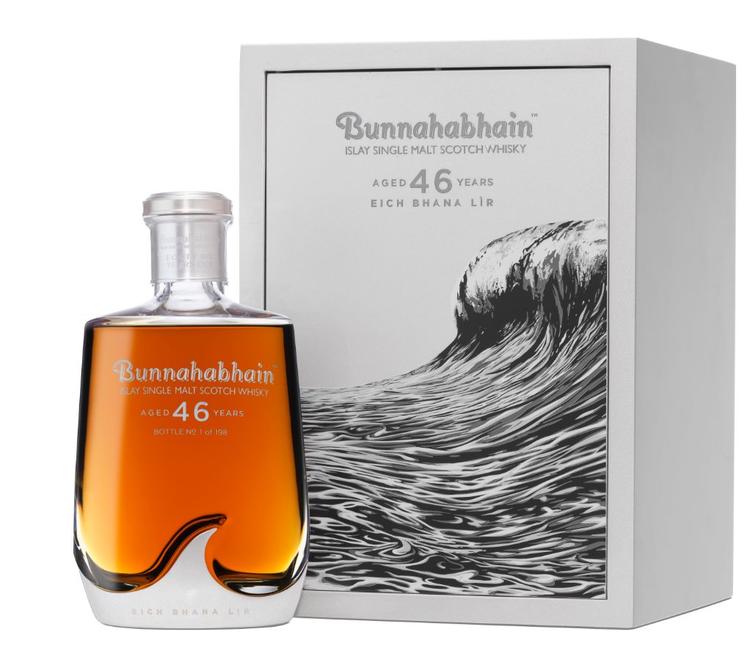 A new design for Douglas Laing's Clan Denny 
The new packaging coincides with the 70th anniversary since Douglas McGibbon & Co – sister company to independent bottler Douglas Laing – was founded.
The ranges include nine Clan Denny single malts bottled at 48% abv and five single grain whiskies bottled at 50% abv, including Auchentoshan 16 Years Old, Glengoyne 20 Years Old, Craigellachie 21 Years Old, Bowmore 15 Years Old and Port Dundas 28 Years Old.
The new bottle designs are available from specialist whisky retailers around the world. (read more)
The SMWS to explore new spirited horizons
SMWS already occasionally releases other spirits – including Bourbon, Japanese whiskies and Cognacs – and the Society says more varieties will be introduced in due course.
The Single Cask Spirits collection will be presented in a new bottle with a grey label and "distinctive" logo to set the line apart from the core Scotch offer.
In the same format as the Scotch releases, each Single Cask Spirit will be an exclusive bottling from one single cask or barrel. (read more)
Bacardi buys minority stake in Teeling
Teeling's portfolio of Irish whiskeys have been imported into the US since 2014, but from 1 September will be distributed in select US states by Southern Glazers Wine & Spirits, formed following the merger of Southern Wine and Spirits of America and Glazer's in 2016 – Bacardi's transatlantic spirits division created to handle its portfolio of brands in the US.
Jack Teeling, founder and managing director, said: "The US market is by far the most important market for Irish whiskey and it is beginning to go through significant 'premiumisation'. Given the size of the opportunity, when a chance came up to partner with Bacardi through their new national distribution partnership and unique route-to-market model with Southern Glazer's, it was too good not to take." (read more)
____________________________
Credits: The Spirits Business, Imbibe, Bar Magazine, The Drinks Business, WhiskySite.nl, scotchwhisky.com