If like me, once again, you cannot attend whisky heaven (I mean, Feis Ile, Islay whisky festival for those who may not be familiar with this annual malted celebration) this year, I thought it could be a good idea to offer you a little "Feis Ile" selection around here so that we can all drown our sorrows together 🙂
As usual, click on titles for direct links to shop (you'll probably notice a few of them aren't available anymore… No worries, you should be able to put your hands on those at auctions ;))
Bruichladdich 9 Year Old 2001 – Renaissance
A second of two special releases to mark the acquisition and rebirth of the Islay distillery, originally founded in 1881. Distilled in 2001 and matured in bourbon casks, 2,500 unpeated bottles were produced and originally released for Fèis Ìle 2011. A piece of Islay whisky history.
Big Peat Feis Ile 2017 Edition
The Feis Ile 2017 release of Douglas Laing's Big Peat blended malt, to coincide with the annual celebration of Islay malts. For the first time, this has been finished in sherry butts, adding extra richness to this composition of whiskies from Ardbeg, Bowmore, Caol Ila and Port Ellen – big, bold and peated.Caol Ila 6 Year Old 2010 Feis Ile 2017 – Provenance
Caol Ila 6 Year Old 2010 – Feis Ile 2017
Independently bottled Caol Ila single malt Scotch whisky, aged in a single cask for 6 years (from November 2010 to April 2017). Following that, this was bottled by Douglas Laing for their Provenance range and released in celebration of Fèis Ìle 2017!
Bunnahabhain Dràm An Stiùreadair – Feis Ile 2014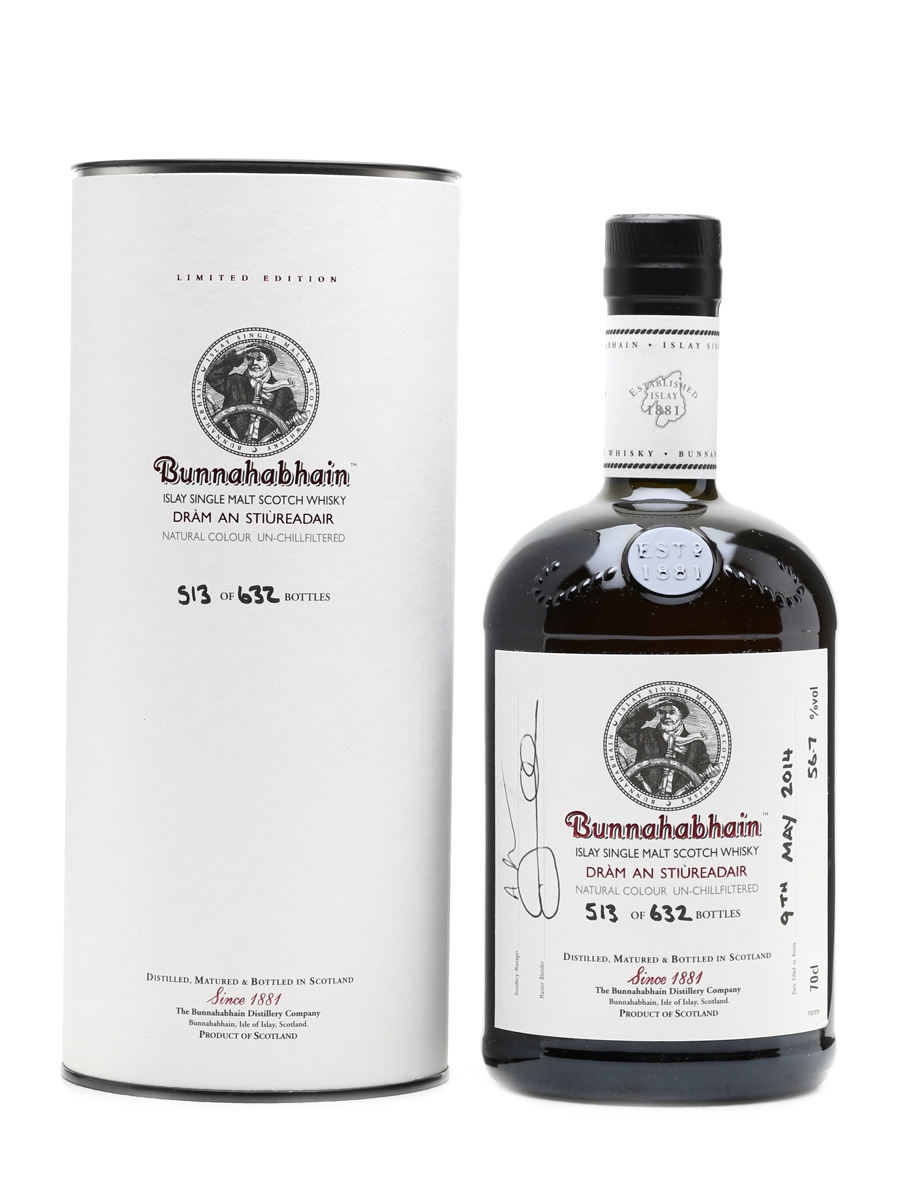 Dràm an Stiùreadair is pronounced 'Draam an Yoù-radar' or 'Dram on your radar' (close enough, probably). It's a heavily peated Bunnahabhain released especially for Fèis Ìle, the legendary Islay whisky festival, in 2014. Matured in Bourbon casks for 9 years, it then spent a final year in a Marsala wine cask the outturn from which was 632 bottles.
Bruichladdich XX Nostalgia – Feis Ile 2012
Bruichladdich's XX Nostalgia is the distillery's 2012 Feis Ile bottling, and very nice it is too. As you might expect from Bruichladdich it has an unusual twist, and has been finished in Gaga Barolo Casks.
Ardbeg's absolutely amazing Feis Ile bottling, bottled in 2011. This very rare Ardbeg was distilled in 1998 and aged in two Pedro Ximenez butts (making this the closest thing you'll ever get to a finished whisky from Ardbeg!).
Kilchoman Feis Ile 2014 Release
A special Kilchoman bottling produced specially for the 2014 Islay whisky festival, it was matured for around 5 years, initially in first-fill bourbon casks before spending a finishing period in a Fino Sherry butt. And it's good. Really very good indeed. The outturn was 525 cask strength bottle.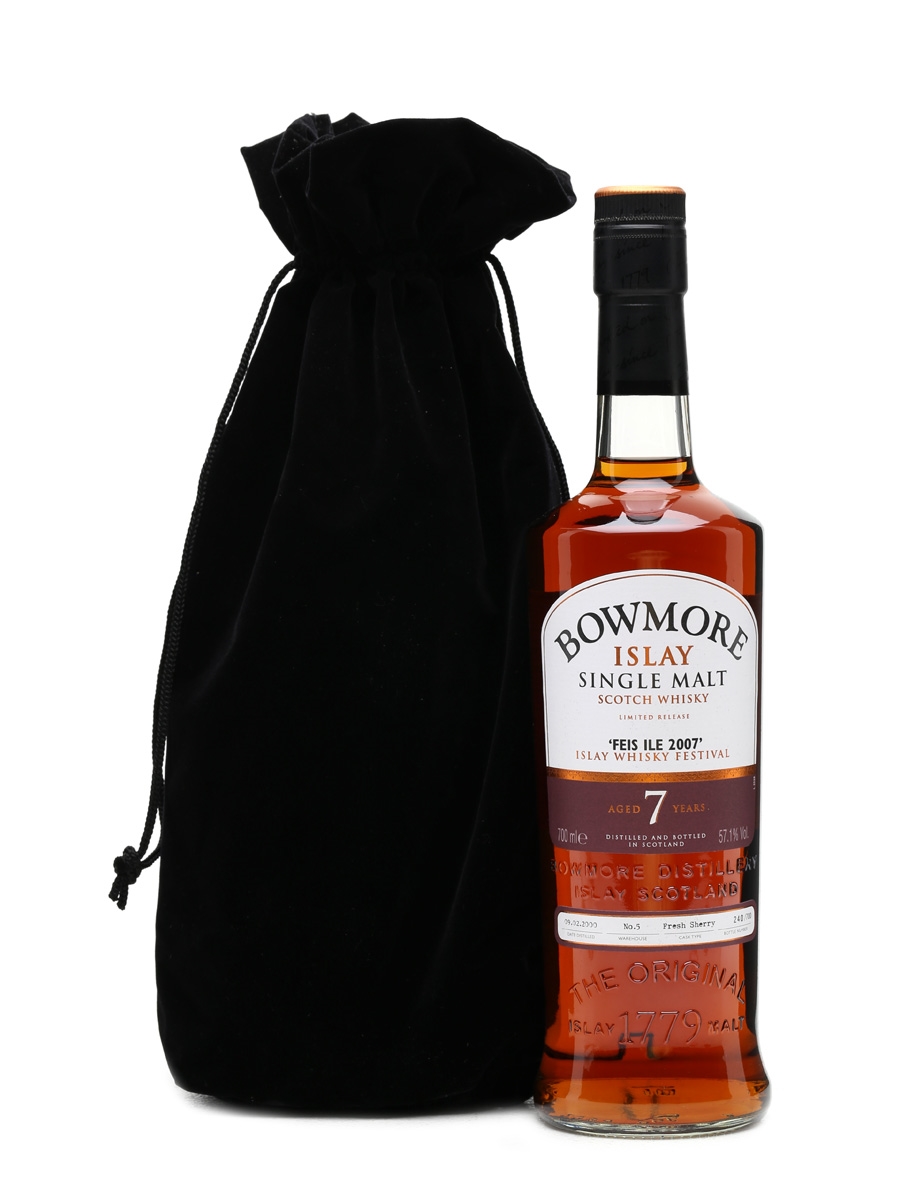 Distilled 9th February 2000 and matured in a fresh Sherry cask, this was Bowmore's 2007 Fèis Ìle (Islay Festival) bottling. Just 700 bottles were released.
Quadruple-distilled Octomore – Feis Ile 2014
A quadruple (!) distilled Octomore, this dangerous, perilous 'usquebaugh-baul' came off the still at 89% abv but has retained an extraordinary amount of flavour. Just 1,695 bottles have been released, a nod to the fact that usquebaugh-baul was last created back in 1695.
SMWS – Jazzy Jousting Hastlitude 29.211
"Peat smoke from the maltings is drifting along the street and mingling with salty sea air and hot sand.
The influence of the American oak Pedro Ximenez cask is clean and clear, bringing a minty humbug freshness and a deeper malt loaf note. The palate is sweet and rich, like dates wrapped in smoked bacon. It's surprisingly mellow for a dram that still comes in at over 50% abv (51.6%).
A splash of water brings out floral notes, as well as some pineapple chunks in syrup.
This whisky is all about balance and subtlety – qualities that are perhaps not always associated with drams from this part of the island."