Lone Wolf finally launches its spirits
BrewDog officially launches its new craft distillery LoneWolf today and has released some new details about its debut spirits, and accompanying mixers.
The company says the Aberdeenshire distillery features the world's only 'triple-bubble' still and an 18-metre-tall rectification column, the tallest in Europe.
In development for two years, the distillation equipment was conceived by head distiller, Steven Kersley, in collaboration with German engineering company, Arnold Holstein. The resulting distillery is intended to be 'the most versatile distillery in the UK'.
Launch products include LoneWolf Vodka which is distilled four times, and lightly filtered once, to retain the grain character. LoneWolf Gin is unfiltered, again to retain its flavour and spirit complexity. Whiskies and other products will follow in the future. (read more)

Benromach releases 1976 vintage
The Benromach Distillery Company Ltd has launched a visitor centre exclusive single cask at the Spirit of Speyside Whisky Festival to celebrate a successful year for the distillery and visitor centre.
Benromach 1976 (ABV 53.5%), cask number 2393, is a dark golden malt, matured in a Refill American Hogshead, with an exceptionally rare character of succulent fruits, with smooth, peppery hints followed by sweet aniseed.
Like previous vintage exclusives, this limited-edition Speyside single malt is presented in a bespoke decanter-style bottle with the contours and copper-colour of the neck and shoulder line representing Benromach Distillery's stills. The oak presentation box is inspired by the home of Benromach, reflecting the copper of the stills, as well as the dark, grained wood of the original washbacks and the white of the lime washed distillery walls. A beautifully written hardback book accompanies the whisky which delves into the Benromach history, as well as providing whisky fans with some fascinating stories about the people behind the whisky.
Distillery Manager Keith Cruickshank continued: "This visitor centre exclusive is a great way to mark the distillery's recent success and I'm sure Benromach enthusiasts will be keen to get their hands on one of the 32 bottles."

Youngest English distillery Cooper King Distillery to launch Founders' Club
Cooper King Distillery is inviting whisky and gin enthusiasts to become part of England's youngest whisky distillery through its Founders' Club which is due to launch in May. The distillery is located in the heart of Yorkshire and will produce small batch, whisky, gin and other adventurous spirits.
Once an architect and a scientist, Chris & Abbie's love for craft spirit distillation grew after deciding to escape the rat race and embark on a life-changing trip to Australia in 2014. After visiting all eight operational whisky distilleries in Tasmania, they were inspired by these small producers who were carving a path for hand-crafted premium whisky. Taught by Bill Lark, the godfather of Tasmanian whisky, and armed with a wealth of knowledge gathered from across Tasmania's now internationally acclaimed New World whisky distilleries and beyond, the ambitious pair have brought their ethos back home to the UK to influence this truly independent craft distillery.
Cooper King Distillery are now launching their Founders' Club to the public in May 2017. Members will be rewarded with first-release products, rare bottlings, distillery merchandise and lifetime membership.

Highland Park redesigns its whole range and it looks amazing! 
The new series of Viking Legend releases begins with the release of Highland Park Valkyrie, an NAS bottling with a greater proportion of peated malt, and launched in partnership with Danish designer Jim Lyngvild, an expert in Norse mythology and described as a 'bona fide 21st-century Viking'.
A number of further new launches from the Edrington-owned distillery will follow over the next year.
The distinctive new core range packaging, described as 'a complete re-imagining of the overall brand identity', is inspired by the period from around 800AD when Orkney was ruled over by the Viking kingdoms of Denmark and Norway.
While the liquid for the core range remains unaltered, each variant has been given a 'sub-brand' name:
Highland Park 10-year-old: Viking Scars
Highland Park 12-year-old: Viking Honour
Highland Park 18-year-old: Viking Pride
The new packaging will begin to appear in the UK from the end of April, with the redesigned 18-year-old launched in specialist retailers from July. Older expressions, including the 25-, 30- and 40-year-old variants, will have the new packaging over the next 8-12 months. (read more)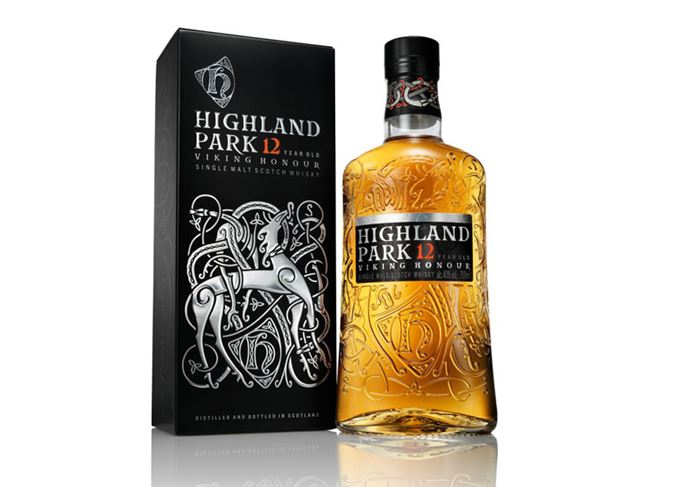 Diageo has unveiled 9 of its 10 2017 Special Releases in advance… 
The annual collection of limited edition whiskies – a series that began in 2001 and has featured whiskies from lost distilleries such as Port Ellen, Brora and Caledonian – has whisky enthusiasts clamouring to discover which bottlings will be released each year.
The anticipation for their release is so great that Diageo has struggled in recent years to keep details about the bottlings a surprise.
Dr Nick Morgan, head of whisky outreach at Diageo, said in a statement: 'One of our most cherished moments in the whisky calendar is the annual announcement of the Diageo Special Releases collection – a group of limited edition and natural cask strength whiskies that are highly anticipated around the world and revered for their quality and collectability." (read more)