If you've been growing an interest for all things whisky innovation and artisan distilling lately, you're probably already familiar with this Chicago-based groundbreaking distillery that is Koval. As part of my partnership with the Craft Whisky Club (still haven't checked them out? What are you waiting for seriously…), I wanted to find out more about their innovative work and I therefore got in touch with distillery's President Sonat Birnecker Hart who kindly agreed to answer my 7 questions!
First of all, could you tell me a bit more about yourself: where do you come from, career background etc. and how did you end up setting up the first distillery in Chacago since the 1800s?
Both Robert and I have academic backgrounds and Ph.Ds. I was a tenured professor before starting KOVAL and Robert was the Deputy Press Secretary of the Austrian Embassy in DC. Robert however, had grown up distilling on his grandparent's distillery/winery in Austria.
Our decision to make whisky came just after we had saved enough money for a down payment on a modest house. It was at this time that questions arose as to whether we should use the money for a house and continue with our careers, or if we should use it for something completely different: a new beginning, a different lifestyle, a family business. I was pregnant and wanted to be able to be with my children while working, and a family business was the logical conclusion. Instead of buying a house, we bought a still, and moved into one room in my parent's home with our baby, and started the first distillery in Chicago since the mid-1800s. Whiskey became a fabulous way to make something together, of high quality, as a family.
Even after we started KOVAL, there was a lot that needed to be accomplished, in order to take the business to new levels, not least of which was changing Illinois' liquor laws. Pregnant with my second son, I drove down to Springfield a number of times until I managed to get the Craft Distillers Bill passed, allowing us to do tours, have retail on site, and a tasting room. This really helped us grow and educate consumers about our brand in a very direct, grassroots manner. It also made way for a proliferation of distilleries and distillery bars in Illinois, and the numbers keep growing.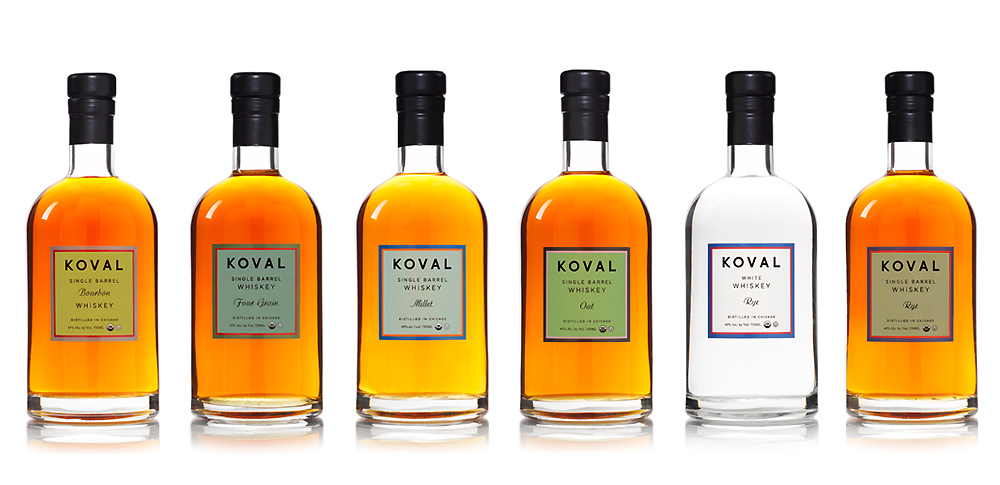 What's your personal relationship with spirits (and especially whiskey): first sipped, noticeable milestones in your spirited journey, any favourite product/production country/distillery/flavour profile?
I first sipped whiskey when I was about 8 after sledding in the snow with my siblings for hours until our cheeks were bright red. My mom let us each have a sip from a small Waterford crystal glass. It tasted like sunshine.
In general, we love the spirits industry because we enjoy all kinds of distilled spirits. This might also be why we make so many different kinds of spirits: whiskey, gin, liqueurs, and brandy. Each one evokes a different flavor profile, even feeling. Like perfume, they can be used to mark moments, celebrations, time. Moreover, we enjoy traveling and the flavors we encounter, whether food or drink. It would be difficult for either of us to choose any one place or product. We celebrate the diversity and richness of the spirits category.
New distilleries have been spreading the USA like nowhere else, how do you think KOVAL is standing out within this highly-competitive environment? Do you see this trend (the rise of micro distilleries) as a threat or an opportunity?
It had been a real opportunity for us on a number of levels. This is in part because we started a consulting firm in tandem with KOVAL, called Kothe Distilling Technologies. In so doing, we have been able to teach over 3000 people the art of distilling and how to start a distillery. Our workshops also afforded us an opportunity to create what has become a new school of American distilling; one that celebrates the "heart cut" as opposed to the traditional technique of adding some tails to the hearts for aging.
When starting KOVAL we wanted to distinguish ourselves in part through our use of alternative grains for new and unique flavor profiles, but we also wanted to be different in our process as well. This is when we decided to apply Robert's grandfather's fruit brandy making style and technique of using only the heart cut of the distillate and apply it to grain. Now one can see many craft distilleries promoting their use of the "heart cut", it is highly likely that these distillers were our students. We are truly honored to place our stamp on a modern American style of whiskey. In addition to the teaching, we have also set up over 150 distilleries for others, mostly in the US and Canada. This has given us a great vantage point of what is going on in the industry, while establishing a strong vertical business model.
KOVAL stands out because of our commitment to excellence, use of high quality organic grains, unique product offerings, attention to detail (including our design), and old fashion relentless hard work.
If you had to choose ONE product from your range, which one would it be and why?
If you have many children, you never choose one over the other.
Craft distilling still hasn't any official/legal definition, if you were to come-up with one, what would it be? How would you define "craft"? And do you consider Koval as a craft distillery?
Craft has become a meaningless term. We consider ourselves an artisan distillery creating the highest quality spirits, from grain to bottle using only the heart cut of the distillate, in our independent family owned and operated distillery. Ultimately making alcohol is a business and we do not place any value judgment on those who source product or make it themselves…everyone wants to be able to send their children to college. Ultimately, there is craft in doing business well.
You've been at the avant-garde of different trends within the whiskey industry: rye, organic, kosher…. What do you think will be the next "big thing" in the industry over the next few years?
I'm very excited to see a growing interest in brandy, though I am not sure if it will become mainstream over the next few years.
How do you see the future for KOVAL? How do you picture the distillery in 5/10 years time? Any crazy dream you'd like to achieve?
For us, the journey is the goal. We are achieving our dreams every single day: we are doing what we love with the people we love. As for the future of KOVAL: we would like to see it grow and develop in accordance with our values.
_____________________________________________________
Pic Sources: boozeforbabes, howdidshegetthere, wholefoodsmarket