We're officially kicking off the race to Christmas today! And I've been warning you since a few days, we'll be going all blooming christmassy around here! Let's start the festivities with my usual monthly selection… But instead of the 5 whiskies I usually select, my Whisky Wishlist doubles in size this month and showcases 10 fine expressions (in case you were still looking for some gift inspiration, there's plenty to choose from here: Japanese, Swedish, Irish, American, Scotch… )
Kings County Peated Bourbon is made with malted barley grown and smoked in Scotland, Aged in new barrels, this is a scotch-like bourbon with notes of sea spray, pretzels, dark chocolate and smoke.
Beam Suntory will expand its already enviable portfolio of Irish whiskeys this November, with a new expression from the peated Irish Single Malt, exclusive to European Travel Retail. This heavily  peated Irish malt encapsulates the iconic smooth taste of Connemara, now with a deeper and earthier character.
Connemara's smooth, sweet peat flavours are inspired by Ireland's ancient distilling traditions and the time-honoured process of drying malting barley over peat fires.
Remaining true to its Gaelic name, which means "Big Peat", Connemara® Turf Mór is 50ppm giving a profound peat flavour and a long, full-bodied smoky finish, which offers a more unusual flavour profile for an Irish whiskey.
Neither "classically" Irish nor from the peated homeland of Islay, Connemara® is best described as "Islay meets Ireland" as it retains the distinctive approachable taste of Irish whiskey with the smoky taste of Islay Malt whiskies.
Michael Cockram, Global Marketing Director, Travel Retail at Beam Suntory, comments: "We are proud to represent the only Irish peated whiskey in existence. The launch of a heavily peated malt for Connemara® is ground-breaking for the category and Turf Mór reflects Connemara's use of traditional techniques with a modern twist. The release of Connemara® Turf Mór as an exclusive in European Travel Retail demonstrates our commitment to offering consumers new and interesting products of the best possible quality."
Ardnamurchan Spirit 2016 AD is a vatting of casks that had been maturing at the distillery since production started, which were then left to 'marry' in Sherry butts for three months. The bottling has been released as a one-year-old spirit. (read more)
Teeling 24 Year Old – Vintage Reserve
Part of Teeling's Vintage Reserve Collection, this 24 year old Irish single malt whiskey was matured in bourbon casks before being given a finishing period in Sauternes wine barrels. A limited edition release of 5,000 bottles.
Bruichladdich Organic- Multi Vintage
The second edition of Bruichladdich's single malt whisky made with organically-grown Scottish barley – in this case from the Mid Coul, Coulmore and mains of Tullibardine farms. As with all of Bruichladdich's malts, this has been neither coloured nor unchilfiltered. More unusually for this distillery, it hasn't been wine-finished either.
Widow Jane 10 Year Old (LMDW 60th Anniversary)
One of a pair of 10 year old bourbons released for La Maison du Whisky's 60th Anniversary celebrations from Widow Jane. This one features a high-rye content in its mash-bill, and has been bottled at 45.5% ABV.
Glenrothes 20 Year Old (North Star Spirits)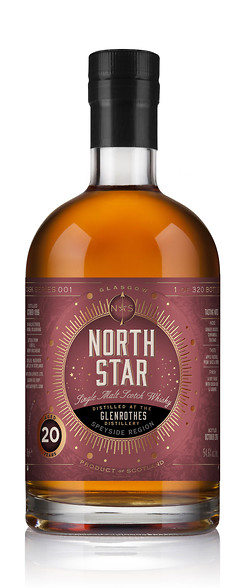 20 year old single malt Scotch whisky from the Glenrothes distillery, independently bottled by Glasgow's North Star Spirits. It was distilled in October 1996 and set aside until October 2016, when it was bottled with an outturn of 252 bottles.
Jameson Deconstructed Series – Bold
Jameson's Deconstructed Series is a trio of Irish whiskeys, released for the Travel Retail market. Each expression gives light to a different characteristic Jameson – this one is the 'Bold' expression.
Dálvve is the Sami word for 'winter'. The Nordic winters are an important part of our distillery's unique character, so what could be more suitable than to borrow the name for our first 'standard whisky' from the indigenous Nordic culture that throughout the ages has lived here in perfect harmony with the passing seasons and nature?
Box Distillery is one of the world's northernmost distilleries, directly intersected by the 63rdlatitude, one day's car ride from the Arctic Circle. As early as October, temperatures can fall way below zero and the winter months are often ice-cold with heavy coverings of snow. Dusk and darkness come early and the northern lights illumine the meter-thick ice on the river outside. This environment is unique to Box and it affects our whisky in a number of ways. The river's ice cold cooling water produces a true world class distillate and the hot summers, cold winters and temperature variations enhance the whisky's flavour by pressing it back and forth through the oak as it patiently waits in the warehouses. This is what gives our whisky its character. And of course this holds true, in every way, for Dàlvve.
Kikori Whiskey, despite being from Japan, is a brand produced for the American market (hence the 'e' in whiskey). Made entirely from rice, and therefore a single grain whisky, this is aged for three years in a combination of American- French- and ex-sherry-oak. This has notes of melon, almond, apple and wood spice, and lends itself to use in cocktails, as well as on its own.
XMAS SPECIAL! Laphroaig Christmas Jumper 😮
Laphroaig have just launched their limited edition festive jumper and I thought it might be of interest in the run up to Christmas! It's available from the Laphroaig online shop for £30. Wear it with pride and express your opinion on this divisive single malt. The jumper is Embroidered with a seasonal Fair Isle pattern and the Laphroaig #OpinionsWelcome™ slogan.