"Boys and girls of every age
Wouldn't you like to see something strange?"
Let me get this straight: you're not going to spend yet another Halloween night without a little extra boost to help you go through this boring ritual of answering the door every 5 minutes to another cheap-skeleton-dressed/zombified-Justin-Bieber kid, giving away those several-months-old-chocolate-bars-you-found-at-the-back-of-your-cupboards-in-despair-because-your-obviously-forgot-to-buy-candies (don't mind me being a psychopath…) .
Anyway, why not throw your own grown-up Halloween bash? Of course, I've selected the perfect whiskies for the occasion!
Bowmore The Devil's Casks III – to awake the devil in you
When the folk of Bowmore formed an angry mob to chase the devil out of the church (which is of course round, offering him nowhere to hide), down the road and through the distillery, it was assumed that he must have made his escape in a cask heading to the mainland aboard the Maid of Islay. Some first fill Sherry casks at Bowmore make you wonder though, how can whisky be so devilishly delicious? This third and final Devil's Casks release uses both Oloroso and Pedro Ximénez casks for the first time.
Bruichladdich Black Art 4.1 – a bit of Black Magic
The fourth release of the legendary Bruichladdich Black Art whisky. With the recipe a mystery to everyone apart from the creator, it's still a cryptic enigma.
The Circus – Compass Box – For those afraid of evil clowns
A limited edition blend of four whiskies, two of which were blends that spent over two thirds of their maturation in refill Sherry marrying butts (they make up 57.2% and 1.4% of The Circus respectively). A blended grain was also used (26%), which spent over one third of its maturation in its refill Sherry marrying butt, with the final component Compass Box used being a first fill Sherry cask matured Benrinnes single malt (15.4% of the final blend). The whiskies that make up the blended components remain something of a mystery (even to Compass Box themselves), but you can be sure they've been used to create something truly special by John Glaser and his team.
Tomatin Cù Bocan – if you're more into haunting spectrums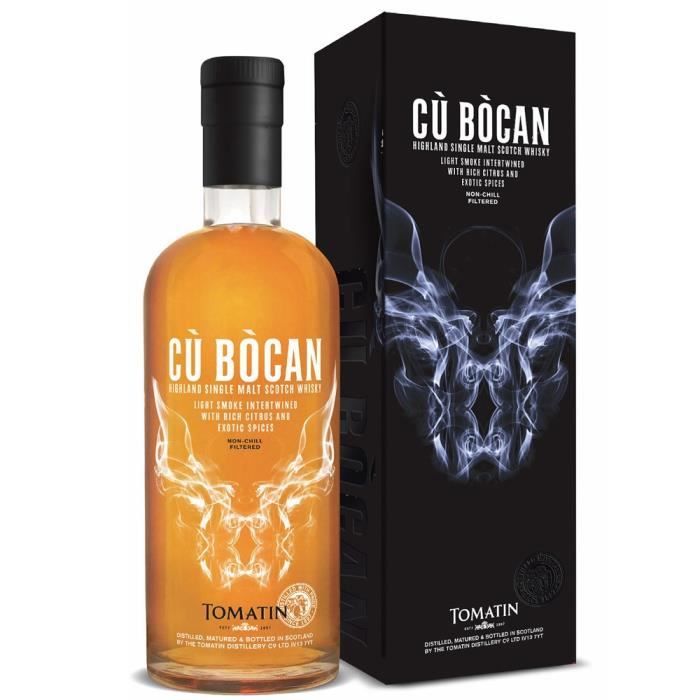 The story behind this Tomatin comes from the legend of a spectral dog, Cù Bòcan, who has haunted the Highland village for countless years. It was once seen by a distillery worker who, after initially running away, felt compelled to touch the dog's fur. As he reached out his hand, the dog dissipated into a plume of ghostly smoke over the moorlands…
For one week every year, the Highland distillery makes a peated whisky instead of their traditionally unpeated expressions. This ghostly edition has been peated to 15ppm and matured in a mix of virgin oak, bourbon and sherry casks. Don't worry about it evaporating after touching it though. We're sure that's just an old wives' tale. Hopefully