'Morning my little drammers! It's been way-too-long since I last came up with one of my "where to enjoy a good dram in…" piece, and I actually even realised that I never featured Glasgow in this series… Still trying to figure out what's wrong with me.
But hey, it's high time I rectify this mistake and provide you with a personal shortlist of my favourite go-to whisky hotspots in Scotland's largest city. Be prepared for some real mouth-watering teasing lines & pictures if you dare scrolling down this page…
The Pot Still – of course!
My N°1 favourite whisky spot in Glasgow for sure… And a long-lasting institution amongst Glaswegian & tourists alike.
Definitely one of Glasgow best whisky bars (yes, even from a fairly objective point of view…). More whisky than you can handle (more than 600 whiskies currently behind the bar…), some old & rare expressions, from Scotch, Irish, American to Japanese and even French whisky ( \o/ #NationalPride ) along with more common names served aside cask ales, draught and bottled beers and homemade pies & toasties for those who fancy a small bite to eat with their dram.
The bar has been runned as a family business (come on, it's not like you've never heard of the Murphy Dynasty while talking to basically any Glaswegian whisky lover…) since 5 years now, receiving many awards for its selection & welcoming atmosphere. A must-go while in Glasgow! (and if all of this hasn't convinced you yet, note that you'll also be able to meet Glasgow's one and only blue-bearded-Jedi bartender there… now you've got no excuse.)
Address: 154 Hope St, Glasgow G2 2TH
Phone: 0141 333 0980
More than 800 different real ales sold per year and an impressive selection of 400+ whiskies of which many old and rare nectars; "the pinnacle of our collection being our 70-year-old Glenlivet."
Don't know when this statement was made, but last time I went there (which means 2 weeks ago), I spotted the famous drop-shaped bottle of Mortlach 75 years old released by Gordon&Macphail last year… See, there's literally something for every budget there – and one of the best Port Ellen selection I've seen in a bar.
Also worth noting for the technology addicts (and short-sighted people like me), you can browse their entire selection very easily through their iPad list (see below pictures). Kudos to them for this!
Address: 153 North St, Glasgow G3 7DA
Phone: 0141 248 4427
The Lismore
.
One that has been many times recommended to me by locals. Even though the selection is not as large as the two previously mentioned bars, this is definitely a place worth checking out, especially for its stunning façade and stained-glass windows.
 .
A very traditional Scottish feel to it and an interesting story to read in the male toilets 😉 [Always the attention to detail I know… Not like I've been to the male toilets though… But hey, people talk.]. Apart from that, I would also gladly invite you to check out their music programme for some celtic jaming sessions.
.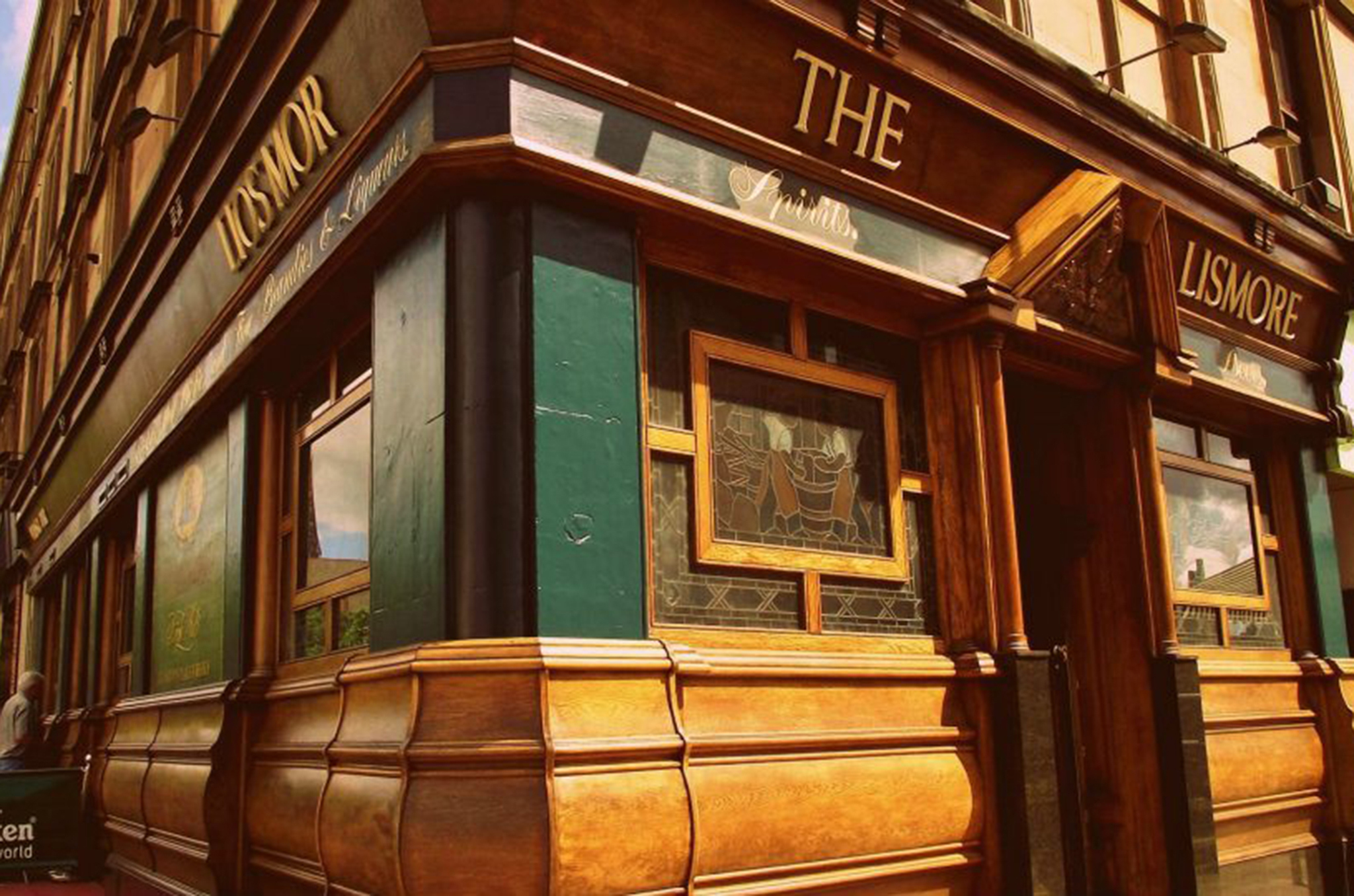 Address: 206 Dumbarton Rd, Glasgow G11 6UN
Phone: 0141 576 0102
Not the most impressive selection of whisky (still around  75 on offer) but a seriously-cool place worth a visit while you're in Glasgow (food and beers are great too).
Located on Woodlands Road in Glasgow's West End and being only a few minutes from Glasgow University and Kelvinbridge underground station DRAM! is a firm favourite of locals and students alike.
Bright (lovely big windows to stare out from and watch the world go by – a must-go for people watchers) but cosy; with lots of comfy corners, candles, recycled and re-used furniture and fittings – and the odd stag's head or two… Perfect to lose a few hours in Glasgow's West end!
Student societies and groups often meet up at DRAM! so if you're looking for a casual, cool and youngish meeting venue or sponsorship – look no further!
Address: 232 Woodlands Rd, Glasgow G3 6ND
A real must-go and probably the first bar I ever went to in Glasgow, nestled within a majestic old church and therefore boasting a very unique atmosphere.
The Whisky Bar is one of the west end's most popular destinations, boasting over 280 malts. And you're always guaranteed a traditional warm Scottish welcome in this cultural meeting place. If you fancy a bite to eat, the John Muir Room menu is available in the bar (I personally recommend the haggis bonbons & goat cheese salad). Also worth noting is the beautiful artistic piece from Alasdair Gray in The Auditorium, one of the largest pieces of publict art in Scotland.
Address: Byres Rd, Glasgow G12 8QX