Gregor Hannah, founder of its own whisky brand Lady Of The Glen, kindly agreed to answer a few questions about its independent bottling adventure!
First of all, could you please tell us a bit more about yourself: where do you come from? Career background? How did you came up with the idea of bottling your own whiskies?
I'd like to thank you for getting in touch and inviting me to do an interview (My pleasure Gregor!). I was brought up in Edinburgh and went to University in Stirling. While at Uni, I worked in various bars and restaurants where I developed a taste for Single Malt; although I had been aware of Whisky through my Dad who was an army piper in the Black Watch and he would get lots of different Whiskies as gifts. Coming to the industry as an outsider, I found it tricky to get involved and I was always very driven to start my own business so I felt it was only appropriate to start up my own Independent bottling because I saw an opportunity for a well branded and contemporary truly independent bottler that released consistently good quality Whisky.
Could you describe your personal relationship with whisky: first sipped? Important milestones on your malted journey? A personal favourite (I know this one is a tough one…)?
I think like most people I was introduced to Whisky through traditional means, sipping it at New Years' parties as a youngster and not being that taken by it… However, as I grew up I developed more of a taste for it, and now, I'm at a point where I can recognize flavours I like, flavours I respect and flavours I dislike, but in saying that I wouldn't discount a flavour or Whisky because in the same way you could listen to a new album for weeks until finally you start to enjoy it. Unfortunately, I've yet to breach a milestone where I've received a notable Single Malt Whisky but I am in the interesting position where Whisky that I've released act as yard sticks in my life i.e. When I released my first Single Malt, a 14 year old Refill Sherry Benrinnes, I was about 25 and I had just moved to Fife from a flat in Edinburgh city centre and when I released my 21 year old Littlemill I was 27 and I got engaged that year.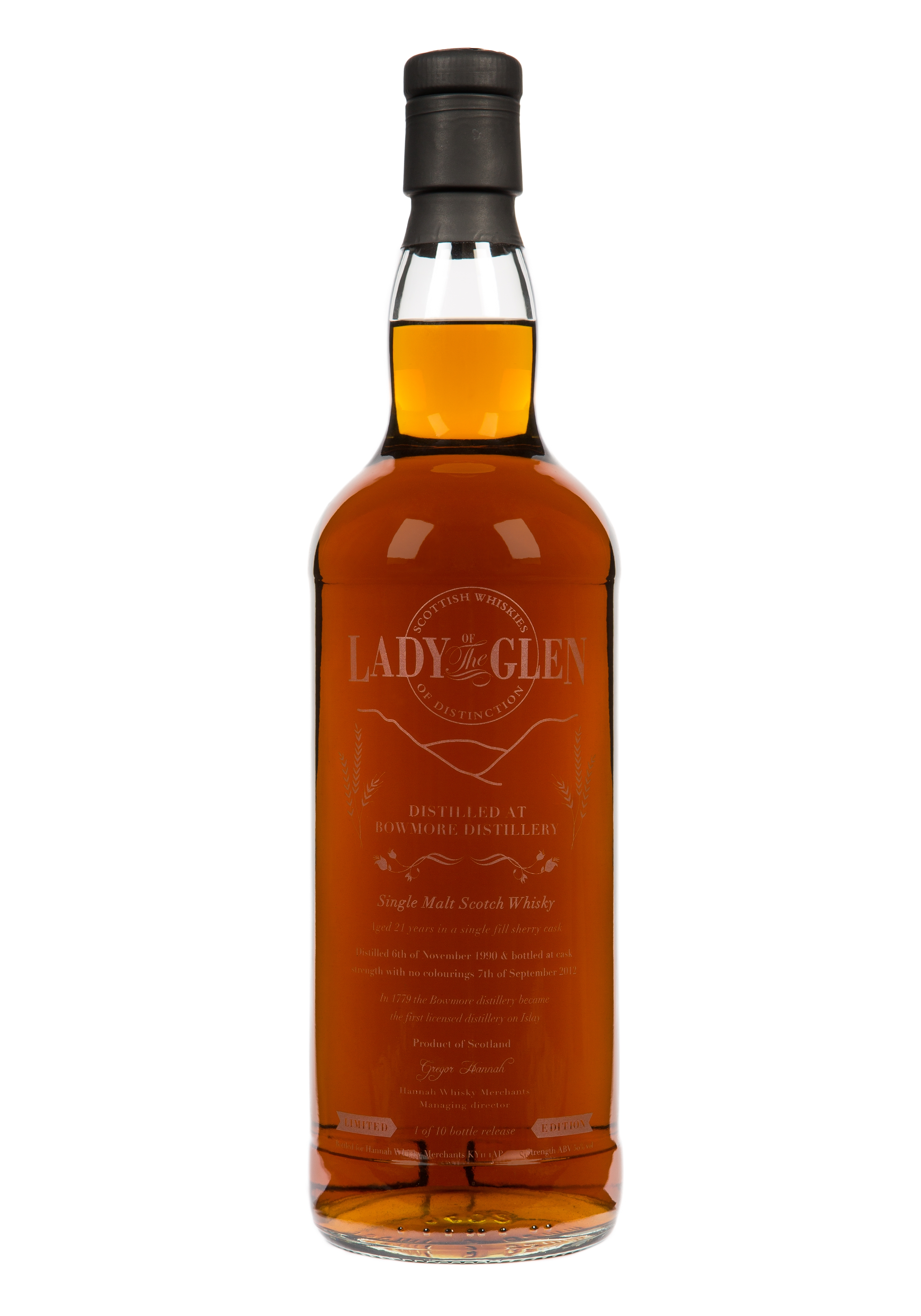 Why naming your independent whisky venture "Lady Of The Glen"? Is LOTG a one-person company or is there a team behind it? When did you start your independent bottler adventure and have you witnessed any noticeable changes in the whisky industry since you started?
Lady of the Glen is a name derived from when my wife and first met. As students in Stirling we would go walks around Stirling castle and the castle was apparently haunted by several ghosts so would play a game to see who could see the Green Lady ghost. She was one of the ghosts that used to walk the ramparts and she reportedly committed suicide by jumping off the rampart due to a spurned lover. I decided on the name Lady of the Glen because I wanted the branding of the business to be personable to me and I couldn't call it Green Lady Whisky because green Whisky has connotations with being very young Whisky. We started in 2012 and my wife helps with the business when she can; her input and guidance are essential because I have a habit of jumping into situations without thinking…
I'm still fairly new, I like to think. Non Age Statement was already coming in when I started and I think it will grow and I believe people have always wanted to get their hands on unique limited edition Whiskies. I would say the proliferation of auction sites is a change because I find a lot of retailers and bars I speak to more of their stock from auction rather than direct.
How do you select the casks you'll be bottling for LOTG? Are you looking for specific flavour profiles? How long does it take you – from first discussion to official release – to launch a new expression?
Cask selection is always based on taste; I'm not that concerned about the maturation period, the cask style or distillery reputation. Naturally I have a taste bias as I'm not that into medicinal tasting Whisky but that's not to say I don't respect it and understand when what I taste is good.
It can take 3 months from sample to sale of Lady of the Glen if we are being quick and if we are electing to bottle a cask right after it's been acquired. This is rarely the case, as a lot of my stock has been matured at my discretion. Future releases of Lady of the Glen will enjoy unique finishing so you would expect that my quickest releases will be around 6 to 9 months.
What would be a typical day in the shoes of Gregor Hannah?
I get up and have breakfast, then check emails and prepare overnight orders for an hour or so. In the late morning I'll drive into Dunfermline to go for a swim (swimming cap and all!) and drop off orders at the DHL drop-off point. In the late afternoon, I'll work on a variety of administrative tasks from my desktop while listening to BBC radio and strumming on the guitar intermittently. In amongst this I will sometimes buzz into Edinburgh for a wee whisky shop visit or to meet people. At the end of the day is when I taste samples and create tasting notes.
Almost every month, we see a new whisky independent bottler hitting the market: do you see this as a threat or as an opportunity and how would you explain this trend?
Yes, I'll admit when I first started I was a bit naïve and I can see why a number of retailers are sceptical when dealing with new independent bottlers because a lot do not have the staying power. However, in any flourishing industry there will be new enterprises entering the market that's a sign of its success.
Do I think they are a threat? Well your only as good as the casks you sell and you only sell good casks from developing long term relationships with certain parties or getting extremely lucky and eventually luck runs out.
According to you, what are the "plus sides" of independent bottlings over official distillery bottlings?
There are so many it's actually easier to the list negatives – when the cask runs out that Whisky is gone forever!
Cask Strength is more prevalent – so the consumer gets more choice on how to enjoy their whisky
Non-Chill filtering – Why would cloudy whisky scare you anyway?!
Single Cask releases – As everyone cask is unique in that no two casks of Whisky can ever be the same; even if they are from the same distillery, placed in the same warehouse, in the same type of cask and distilled on the same date they will still be different due to small unavoidable differences in the wood and where they are positioned in the warehouse – the exposure to heat among other infinitesimal changes allows each cask to mature differently. It means there is a rare quality to each release so when a cask is sold out it is gone forever and cannot be replaced and it allows for a tremendous variety of expressions and flavours in the independent bottling landscape.
Uniquely numbered bottles and limited Editions – so your Whisky has a rarer and collectible value to it
Finally, how do you see the future for LOTG? Any upcoming project in the pipeline? A crazy dream you'd like to achieve?
As I previously mentioned, we are looking to do more unique cask finishing to offer the customer a dram both greater in depth and which is more unique.
Coming soon, we have 1994 Sherry Cask from The Speyside Distillery – a sherry bomb!!, A 1996 Bourbon Cask from The Speyside Distillery, another sherry bomb in the form of a 2006 Tullibardine Sherry Butt and we will sprinkle a few other releases so sign up to our newsletter on www.ladyofthglen.com or like us on Facebook