As we're entering summertime, Independent bottler Wemyss Malts releases a gathering of nine new single cask whiskies ranging from 18 to 27 years old. 
The full single cask list of this release comprises of:
"Arbor in Bloom" 1995 (20yo) single cask from Glen Grant Distillery, Speyside
"Summer Breeze" 1995 (20yo) single cask from Linkwood Distillery, Speyside
"Spiced Rum Baba" 1988 (27yo) single cask from Glenrothes Distillery, Speyside
"Fields of Barley" 1990 (24yo) single cask from Bunnahabhain Distillery, Islay
"Lemon Buttered Kippers" (18yo) single cask from Bunnahabhain Distillery, Islay
"Briny Tangle" (25yo) single cask from Bowmore Distillery, Islay "Banquet of Fruits" (21yo) single cask from Aberfeldy Distillery, Highlands
"Nuts about Pears" (24yo) single cask from Blair Athol Distillery, Highlands
"Mocha Moment" (27yo) single cask single grain from Invergordon Distillery
William Wemyss, Founder and Managing Director at Wemyss Malts, commented: "As there are more hours of daylight today, we've released a larger batch of nine single casks to provide an opulent choice of drams to enjoy through the long evening light. From the topical "Summer Breeze" and "Fields of Barley" to "Arbor in Bloom" and "Banquet of Fruits", all are ideal for joining in with the midsummer revelries."
Selected by the ever diligent Charlie Maclean each cask is limited to only a few hundred bottles with suggested retail prices ranging from £80 to £150. These bottlings will be available in selected retailers in the UK, EU and key Asian markets.
I had the chance to sample a couple of those new releases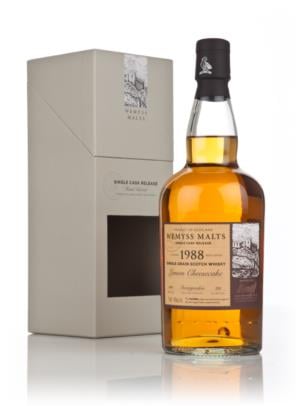 The first of this new releases I tasted was the 27-year-old Invergordon called "Mocha Moment" (Single cask Single grain) and bottled at 46% ABV. Let's have a look!
Nose: Creamy, fruity and sugary with ripe bananas and peaches, brown sugar, cereals, meringue, treacle, buttered vanilla, dark chocolate-covered honey bar and mouthwatering notes of Werther's Original & Rum-Raisins ice cream *Insert drooling emoji here*.
Palate: Glad to see this dram keeps all its promises, basically covering everything I like with old single grains with an incredible easy-drinkingness: sweet Christmas spices, cereal sugars, sweetened milk and a subtle nuttiness. There's quite a large array of flavours in this one with also notes of toasted wood, mocha (yay… Let's face it… Its name doesn't just come out of the blue…) and leather. Feels a bit like an old leather handbag where you'd left a raisin multigrain bar a bit too long… Quite a sherried profile.
Finish: sweet medium finish with roasted walnuts and peaches and a rather grassy retro-olfaction
Recommended Food Pairing: Honey glazed scallops *The return of the drooling emoji*
The second expression I had the pleasure to sample was the Bunnhabhain 1990 (my Birth year :D) "Fields of Barley" which comes at 46% ABV as well.
Nose: A full basket of fresh-handpicked fruits, especially summer berries, giving the nose a pleasant acidulous profile with even some hints of Arlequin sweets (Don't know if this one is a French reference, in case you're not sure what I'm refering to, here it is!). This may be one of the most "summery" noses I ever come accross in a dram… Even showing some notes of coconut milk, floral hints and a subtle salinity with yummy cereals (once again, hence its name…) and oak. I'm now somewhere  over the rainbow on a tropical beach…
Palate: Fairly easy-drinking with salty notes, sea breeze, tropical fruits, herbal honey and masses of sun-dried cereals flowing onto the palate. I must admit I was expecting to travel a bit further trough this expression after this holiday-like nose but hey, it's only the beginning of July after all, put down this swimsuit!
Finish: elegant and slightly citrusy
Recommended Food Pairing: Chicken in coconut milk with lemongrass