For the gourmet: Craft Whisky Club's yummy boxes
A recently-launched Scottish start-up has decided to bring the best of craft whisky and Scottish artisan delicacies straight to your doorstep (and with an entry package at 26.95£ comprising a full size bottle, this sounds like Heaven right? – wait a few months and I'm sure a complimentary basket of kittens will complete the offer)! The company has already secured amazing partnerships with no other than Compass Box, R&B Distillers and Mackmyra – and as far as I know, the future looks pretty good for CWC members… Exciting releases ahead! Seriously, don't you think your malt-maniac dad should know about this? I do.
For the fashionista: Glenmorangie whisky sunglasses – Finlay & Co
In a first for the Scotch Whisky industry and the fashion world, Finlay & Co. and Glenmorangie; two brands which share a deep affinity to wood, have come together to create a limited run of sunglasses and the ultimate accessory for any whisky lover. Based upon the popular Ledbury shape; these Glenmorangie sunglasses have been handcrafted in Britian using a rigorous 16-step craftsmanship process.
You can even personalise your sunglasses with a cheesy "best Dad in the world" engraving if you want (well actually you can't write that as it's only up to 10 characters, but still…). What are you waiting for?
For the one with a sweet tooth: Dean's & Tomatin Whisky Fruit Cake
The reputable Scottish brands, Dean's and Tomatin, have launched a new partnership to create a Tomatin Single Malt Whisky Fruit Cake.
Baked at the Dean's factory in Huntly, the fruit cake, steeped in Tomatin Legacy Single Malt Scotch Whisky and presented in a unique whisky cask style tin, has previously been unveiled at the international trade fair, ISM Cologne in Germany. Having now matured for over a month, the cake is now available to buy in store and online.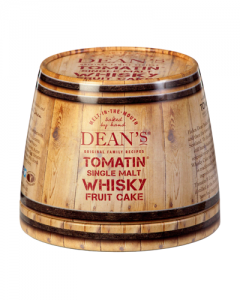 For the reader: a one-year subscription to Whisky Quarterly
A luxury quarterly (thanks Captain Obvious…) whisky magazine for enthusiasts and connoisseurs who appreciate the finer things in life. I personally receive it and read it since a year now and really appreciate the editorial content – some in-depth articles and uncommon views you won't find anywhere else. Of course, the magazine is clearly targeting an elite audience (even the quality of the paper can tell you that) and subscriptions are based on request or invitation only – but it's worth giving a try – and your whisky-loving daddy will surely be grateful you did!