This Spring, Independent bottler Wemyss Malts releases a flourish of six new single cask whiskies ranging from 18 to 35 years old. This parcel comprises of a selection of stock from the Highlands, Speyside and Islay whilst also including a single cask, single grain release named 'Rosy Apple Brûlée'!
The full single cask list of this release comprises of:
"Shellfish Platter" 1997 (18 yo) single cask from Bowmore Distillery, Islay
"The Admiral's Beacon" 1980 (35 yo) single cask from Caol Ila Distillery, Islay
"Waffles and Ice Cream" 1997 (18 yo) single cask, cask-strength from Clynelish Distillery, Highlands
"Chocolate Orange Segment" (18 yo) single cask from Glenrothes Distillery, Speyside
"Flambé Fruit" 1995 (20 yo) single cask from Mortlach Distillery, Speyside
"Rosy Apple Brûlée " 1988 (27 yo) single cask, single grain from Invergordon Distillery
William Wemyss, Founder and Managing Director at Wemyss Malts, commented: "Continuing on from the first single cask release of the year we hope our customers will be elated with a second selection that truly demonstrates the quality and magic of well-aged whiskies such as a thirty five year old Caol Ila titled "The Admiral's Beacon."
Selected by the ever diligent Charlie Maclean each cask is limited to only a few hundred bottles with suggested retail prices ranging from £80 to £240. These bottlings will be available in selected retailers in the UK, EU and key Asian markets.
I had the chance to be sent two samples from those new single cask releases.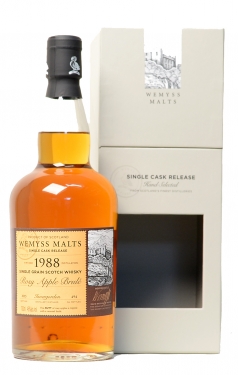 The first expression I had was a Single Grain from Invergordon, distilled in 1988 and matured in a single butt cask until 2015, when it was bottled at 46% ABV with an outturn of 494 bottles.
Nose: Sweet, fruity and floral with brioche, French-styled pancakes, orange blossom, rose water, pear drops, candied fruits cake and marshmallow.
Palate: A sweet, gourmet and rather fresh mouthfeel showing notes of ginger, star anise, cooked red berries, barley sugar and sticky rum baba. A nicely balanced expression boasting an interesting diversity of flavours. I remember attending a Glenlivet tasting with the infamous Dave Broom, who gave the audience this wise advice when tasting a dram: "you should think about it in terms of season". And not surprisingly at all, this blooming Invergordon has everything it takes to be a Spring hit! I can almost hear the birds singing… Well, I actually think it would make the perfect transition dram between late winter days and early Springtime, you know, those times when you're still not sure whether or not to turn off central heating!
Finish: some blackcurrant, floral and chocolate notes have decided to come say hi.
This second expression is a Single cask from Bowmore, distilled in 1997 and left to age in a single hogshead cask until 2015, when it was bottled at 46% ABV as well. 330 bottles were released.
Nose: No doubt we're now heading off the coast here! A frank nose with Bowmore's signature peat, smoke and iodine profile. The nose also shows some interesting herbal, floral notes of heather, lavender and hay. I finally catch-up some underlying tropical fruits in the background… Hopefully, still no trace of lobster or mussels in this Shellfish Platter – I'm safe and sound 🙂 [In case you didn't know – why would you anyway? – I'm completely allergic to shellfish]
Palate: Fruity peat, smoke, sea breeze, salted caramel, hay, pine resin, cut grass and some old driftwood – a bit like if you had left some wooden furniture in a beach or fishing hut for years. This coastal influence just makes me dream of putting on my Jean-Paul Gaultier Topshop "marinière" and embark for a sailing trip (yes, I need to find alternative solutions to this shellfish platter…). This Bowmore definitely tastes like vacations and late campfire songs on a wild unspoilt beach with a bunch of friends.
Finish: elegant with delicate peat, saltiness and citrusy notes