Independent bottler, Wemyss Malts, is thrilled to announce its first Single Cask release of 2016. Six casks have been selected to showcase the best of Speyside, Islay and The Highlands, ranging in age from 13 to 25 years old. There are a number of highlights including cask strength "Coastal Confection" from Islay (that I had the chance to sample *lucky bee*).
William Wemyss, Founder and Managing Director at Wemyss Malts, commented: "In this most recent release we have selected some fantastic whiskies which exemplify the quality of the casks we source for our single cask bottlings. They offer a unique snapshot of Scotland's distilleries and I'm sure our customers will be delighted with the selection."
The full cask list of this release comprises:
"Sizzling Charcoal" 1997 single cask from Bunnahabhain Distillery, Islay,
"Coastal Confection" 1996 single cask from Bowmore Distillery, Islay, Cask Strength
"The Highland Mariner 1997 single cask from Clynelish Distillery, Highlands
"Fallen Apples" 1989 singe cask from Glen Garioch Distillery, Highlands
"Barrista's Dram" 2002 single cask from Craigellachie Distillery, Speyside
"Toasted Anise" 1996 single cask from Glenrothes Distillery, Speyside
Each cask has been selected and named by the Wemyss tasting panel, under the watchful eye of industry aficionado Charlie Maclean.   There are only a few hundred bottles from each cask and the suggested retail prices range from £55 to £110. These bottlings are available in selected retailers in the UK, EU and key Asian markets.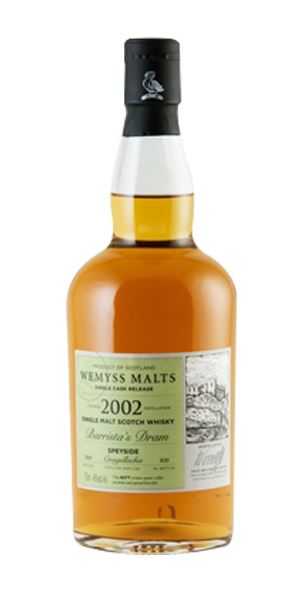 I was lucky enough to sample two of those new releases. First expression I sampled is the "Barrista's Dram", single cask from Craigellachie Distillery, distilled in 2002 and bottled at 46% ABV.
Nose: Thick and rich with toasted marshmallows, gingerbread, "calissons d'Aix" (never forget the French foodie reference!), ripe orchard fruits, banana, dark chocolate, mapple syrup and marzipan. The Barrista may have had a former career as a pastry cook… Definitely a nose full of greedy pleasures!
Palate: Sweet and chewy with oaky and leathery notes. Also some pleasant dried fruits, coffee grounds, sweet spices and apricots. Sweet on the palate like a warm gentle spring breeze caressing your face after the cold winter months.
Finish: Mellow and elegant but still plenty of character like a Scottish gentleman!
PSSST! Find the recipe here!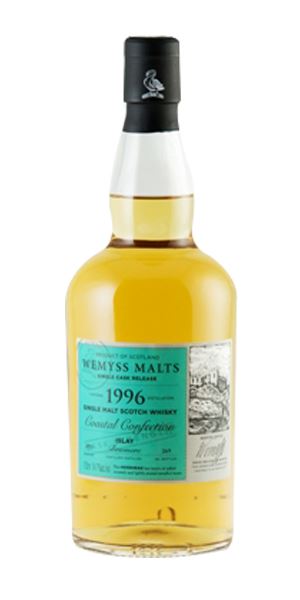 The second expression I sampled is called "Coastal Confection" and happens to be one of the oldest bottlings from the Wemyss Malts 2016 Single Cask Releases. The dram comes from Bowmore distillery, was distilled in 1996 and comes at 54.7% ABV (cask strength).
Nose: Sugary peat comes first. Then comes a delight of cream, iodine, seaweed, floating wood, exotic fruits and menthol (Come on, refering to Fishermans Friends mints here would be too obvious, you deserve more than lame puns… ). Fresh and herbal.
Palate: Vibrant, intense and well-balanced with peaty notes, pepper, hot spices, cardamom, menthol. A frank dram that fully deserve its appellation – a genuinely coastal dram and surely a treat for the peat freaks around here 🙂 !
Finish: long, pleasant and definitely well-mastered!
PSSST! Find the recipe here!