Fancy a change from the regular Speyside/Highlands/Islay whisky pilgrimage? Why not considering a picturesque off shore getaway, in one of the most magical Scottish islands, the charming Isle of Mull?
For those in the back of the room or the non-whisky-geeks (aka those who don't spend 1564878 hours a week documenting themselves on The Spirits Business and other whisky-related websites – no worries, not blaming you for having a life!), you should know that Mull is home to Tobermory distillery, the only distillery on the island and one of the oldest commercial distilleries in Scotland. The distillery produces two different, but equally alluring, single malts: the fruity, unpeated Tobermory and the more robust and smoky Ledaig.
So, whether you'd like to treat yourself with a quick weekend away from the city or embark on the full islander experience, here are 3 accommodation options for you:
The Tobermory Hotel – from £120 per night
Address : 53 Main St, Tobermory, Isle Of Mull PA75 6NT, UK

Right at the heart of Tobermory, you'll find this renowned boutique-style, family run hotel offering quality service and a warm Highland welcome. Overall, one of the most charming accommodation on the island, nestled in a fabulous location.
Once a row of fisherman's cottages, the 200 year old buildings are set on the waterfront of Tobermory, therefore boasting some seriously stunning sea views.
Renovated in March 2015 each bedroom offers a unique size and style with individual boutique decor and furnishings. I'd like to call it a must-stay location!
Callachally House – From £75 per night
Glenforsa Aros, Isle of Mull, PA72 6JN, Argyll & Bute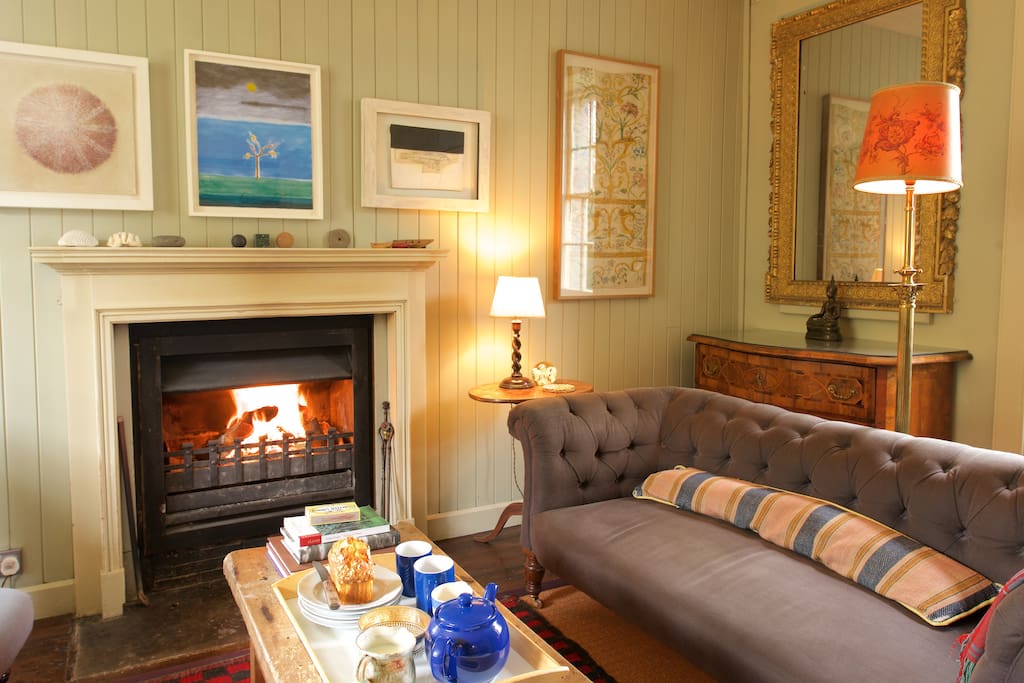 By the small fishing river at the mouth of the Glen, settled into its own wooded grounds, is a big Scottish farmhouse (once a drovers' inn) where on a still summer night you hear the lapping of the sea. A fine, traditional, cultured place, it's been in Ian's family since time began and overflows with colour and character. Bedrooms share bathrooms and each is a gem: old polished floors topped with bright rugs, chalky blue walls hung with paintings; you might hear sheepdogs barking at night. Wake to a fine breakfast (Ian loves to cook), head off down winding roads with views of islands and mountains, return to sprawling armchairs by the log fire.
Ardenfaig Lodge – from £1185 per week
Once the stone gate house for the Duke of Argyll's shooting lodge, Ardfenaig Lodge has been lovingly renovated and extended as a self catering cottage accommodating six guests. Great attention to detail and a passion for preserving original features has resulted in a comfortable and luxurious cottage that will make for cherished memories of your stay on the magical Isle of Mull.
Situated along the shore of Loch Caol in 30 acres of forest, lawn, garden and moors, the Lodge is surrounded by natural beauty, abundant wildlife and a great variety of birds. A large deck overlooking Loch Caol invites you to linger, marvelling at the quality of the light and the peace and stillness surrounding you. A picnic table for al fresco dining is at the centre. The deck is off a sunroom with floor to ceiling windows and two comfortable club chairs perfect for reading a good book or just taking in the view. The dining area is located there and opens onto the kitchen that features a Rangemaster Classic range cooker and everything needed to prepare hearty Highland fare after a day of walking, exploring or just relaxing.