You may have noticed I'm a bit of a travel addict (well, not the backpacker hardcore traveller type though – only trying to sit back, relax, and enjoy the flight (which by the way I never really enjoy…) as soon as I can – everyday blessing low-cost companies for their existence!), always happy to pin a new destination on my "travel-special-world-map-poster" – maybe the central piece of my appartment (ok no, atually the second most important piece, after the whisky cabinet!).
Travelling is of course the best way to immerse in a new culture, meet people, engage in once-in-a-lifetime experiences, visit incredible places, indulge in tasty (or utterly weird) food but most importantly … discover local drinks! When it comes to whisky, common pilgrimages will bring you to Scotland, Ireland, Kentucky or Japan, but now that the world whisky category is expanding faster than ever, I have added many other malted destinations to my whisky travel bucket list, and here are 3 of them!
I was recently exchanging some emails with the guys at Baldwin Distilling Co. down there – far FAR away in the southern hemisphere,  and as far as I can remember, Austalia is a destination I've always wanted to discover, way before I started to grow an interest for whisky (I've always got a thing for long-blond-haired chaps…)
Adding innovative distilleries & a buzzing bar scene – and Australia quickly jumped straight at the first place on my travel bucket list!
The remote island of Tasmania would obviously feature on the initenary – I can already picture myself hitting the roads of the appealing Tasmanian Whisky Trail all the way through Sullivans Cove, Nant, Old Hobart, Lark distilleries and many more, following the increasingly-popular Tasmania Whisky Trail!
Want to go on a Tasmanian Whisky Tour as well ?
The global market for whisky production has changed dramatically in the past few years, and Scotland's place as the top producer of whisky is no longer safe. Throughout the world, from Tanzania to Taiwan, distilleries are being established to cater to local tastes. Sweden is now turning its hand to whisky making — 10 new distilleries have started producing whisky since 2013.
Box Distillery opened in 2010, and has produced small-scale but popular offerings. Hven distillery produces a number of single malt offerings, and has won a number of awards!
The biggest distillery in Sweden is Mackmyra, with the capacity to produce 1.2m litres a year. The company was created when eight friends from Sweden's Royal Institute of Technology met for a reunion in 1998. Each of them had brought a bottle of malt whisky, and soon someone asked why Swedes do not make whisky. Spotting an opportunity, the next year the group set about creating Sweden's first single malt.
"Sweden produces some of the best-tasting barley — some Scottish distilleries even import it from us — so we wanted to create a whisky that showcased Sweden's natural offerings and reflected the country's tastes," says Lisa Collins, Mackmyra's export sales manager. (more details here!)
I had the chance to spend a couple of a days in Stockholm a few years back but didn't have enough time to go up North and visit Sweden's distilleries – definitely on my travel bucket list though!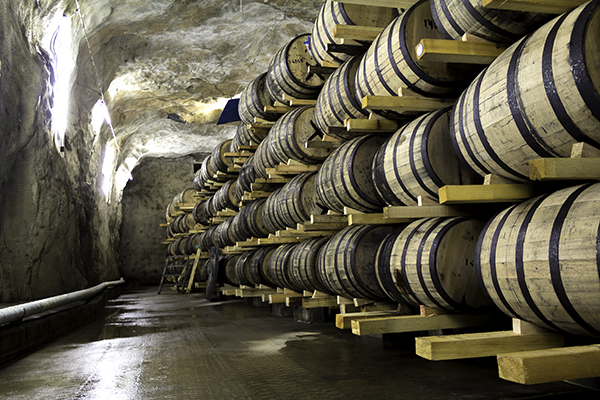 A handful of innovative distilleries are making handcrafted, locally-distilled spirits available for the first time since prohibition. The heart of this movement lies in an up-and-coming neighborhood of small warehouses and light industrial buildings in Southeast Portland, known as the Lower East Side Industrial District. Seven independent distilleries are producing more than twenty unique liquors – everything from vodkas and gins, rums and whiskeys, and even more specialized spirits like aquavit, and flavored liqueurs.
Each Distillery in the Row is open on weekends for drop-in spirits tastings without appointment, with some also open to the public on weekdays. See the listings at right for each Distillery's hours and address, as well as information about their behind the scenes tours. Several local companies also offer tour packages of the Row to help you experience the amazing variety and distinctive quality that only locally-distilled spirits can offer.