There's a remote but famous part of Scotland that every visitor touring the country should definitely visit : The Isle of Skye, an incredibly scenic island featuring breath-taking landscapes and stunning places to stay, whether you're travelling on a budget or looking for luxury getaways.
The Isle of Skye is also welknown amongst whisky enthusiasts for hosting Talisker Distillery and its state-of-the-art visitor centre, which is still the one and only whisky distillery on the famous Hebridean island. However, the area is to count a new distillery as spirit is expected to flow at Torabhaig by the end of 2015 !
No doubt whisky tourists flows will then be heading to the area to discover this newborn Scottish distillery. If you're looking for an original and/or stylish place to stay during your Hebridean break, here's my selection of 3 seriously cool places on Skye :
1. Number One, Carbost – night from £43
"Cruise up to the front of this rural white-washed cottage and prepare to be amazed by what you find inside; as behind the quaint picket fence and post-box-red front door lies a super-stylish 1950's-inspired home. With an enviable position on the untouched Isle of Skye, Number One Carbost is the place where retro-style and timeless natural beauty entwine. Feel inspired by the incredible peaks of the Cuillen Mountains or relax beside the pristine Loch Harport to find yourself transported to a simpler place in time.
Behind its traditional façade, the cottage is full of nostalgia-inducing souvenirs and manages to transform classic kitsch into contemporary cool. Much-loved Ladybird stories adorn the dining room table, while unique Orla Kiely prints give it a quirky, designer finish. Comic books and encyclopaedia pages are upcycled into artistic wall features, alongside collectible biscuit tins and vibrant, wall colours.'
2. The Glenview, Culnacnoc – price per person per night £42.50 – £47.50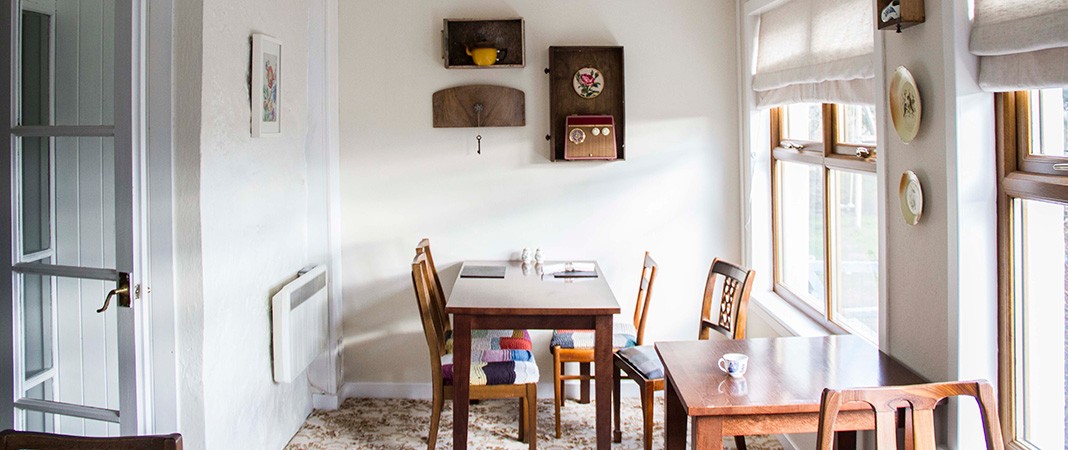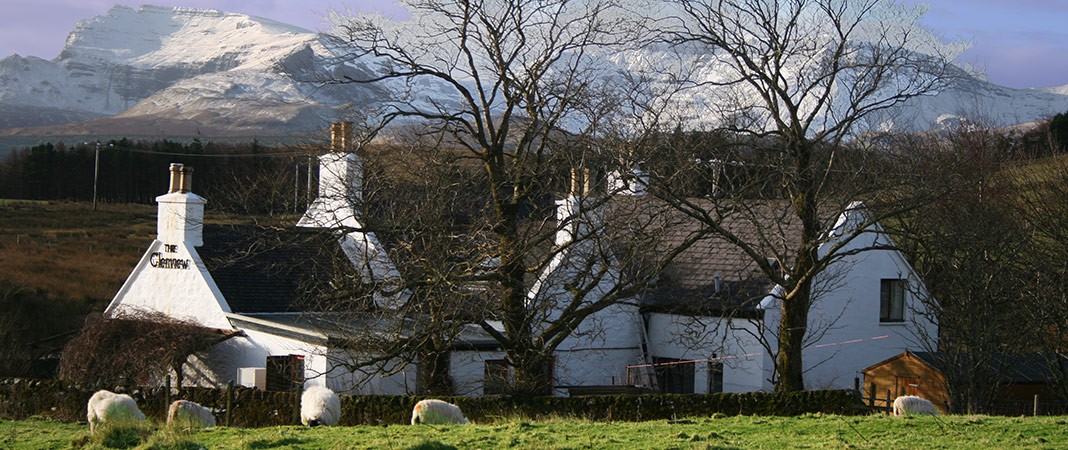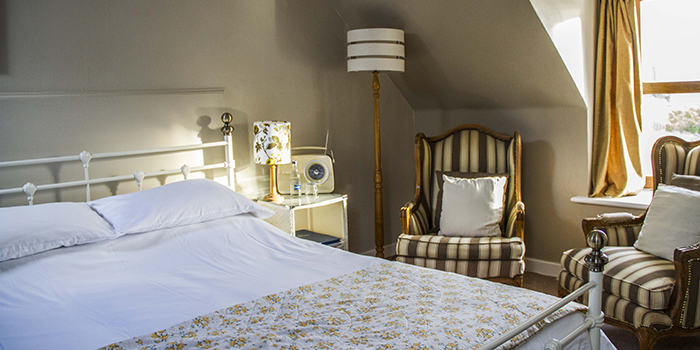 "This little whitewashed croft on the Trotternish peninsula, now a restaurant with rooms, offers vintage chic and a mouthwatering menu. Young owners, Kirsty (Scottish) and chef Simon (Australian) have created a gorgeous gourmet bolthole on the wild north coast. There are just five rooms full of quirky touches: baskets of wool and knitting needles for guests with idle fingers, old leather suitcases, junk shop plunder – and no TVs, just retro radios. The cosy lounge has a woodburner, the award-winning restaurant (tongue-and-groove walls and original wooden floors), two AA rosettes, mismatched china and a daily changing menu of fresh, seasonal local produce." (The Guardian)
3. The Three Chimneys, Colbost – Junior suite £345
The Three Chimneys and The House Over-By provided the very first 5-Star accommodation on the Isle of Skye when the bedrooms were built in 1999. Since then, the long-established reputation of this popular Scottish restaurant with rooms has spread far and wide around the globe. Now graded with 5 Gold stars by both the AA and VisitScotland, placing it in the top 10% of quality places to stay throughout the UK and Ireland.
The Three Chimneys is set within the bare stone walls of an origninal island croft house, dating back over 100 years. Candle-lit, cosy and romantic, it is professionally recognised and very well-known for serving the best, seasonal produce home-grown on the island, fresh seafood, fish, locally reared lamb, beef and game. Fresh vegetables, salad, herbs and soft fruits are all provided by local Skye growers. Head Chef, Michael Smith, holds one of the coveted Gold Awards presented by Eat Scotland, plus 3 AA Red Rosettes. He has represented Scotland on a number of occasions in events both at home and abroad. He is a passionate ambassador for Scottish food and cooking." (VisitScotland)