As Scandinavia, and especially Sweden is becoming a world-class whisky producing region – not only thanks to big players like Mackmyra but also via smaller craft distilleries spreading the territory – there's a lot to learn – AND TASTE – when it comes to Swedish whisky. According to the knowledgeable Nordic whisky enthusiast behind Whisky Saga (Check out my Links page), there are currently 10 working distilleries in Sweden and one start-up on hold up in Lappland. Sweden is also known to be the biggest malt market per capita !
Box Distilleri, which released its first whisky in June last year, appears to be the nothernmost working distillery in Sweden. Nestled within a unique environment and climatic conditions (very cold winters and very warm summers), its geographical situation enable the distillery to produce a unique nectar developing a wealth of flavours due to these storage conditions.
"even the day temperatures can fluctuate from below zero to +20C. The big river gives us cooling water enough to chill every distillery in the world. During long periods of the year it is only about two degrees. You can't find a colder cooling water anywhere. That helps us to create a very estery and tasty spirit with maxmium copper contact." Halsse Nilsson
The purpose of Box Distilleri is to create a high quality product, a world class malt whisky, aimed at demanding whisky enthusiasts, who are quite numerous in this wonderful part of the world, with an extreme attention to detail, especially regarding raw materials.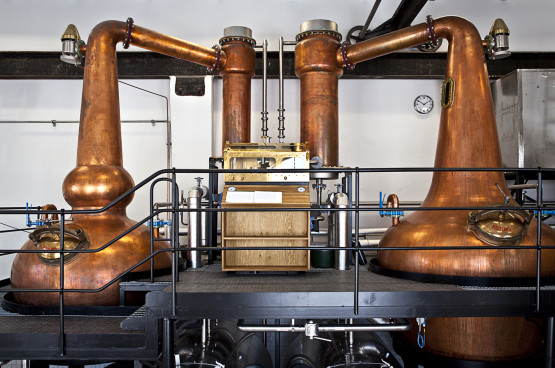 "Whisky made by experts for experts is something different than whisky made to be ingredients in big brands blendings"
Hasse Nilsson interviewed by Dominic Roskrow
Often refered to as "the world's most exciting new distillery" by leading specialised magazines and whisky experts, I thought I needed to learn more about Box Distilleri and found a way to sample two of their young 3-years-old expressions, one unpeated single malt matured in 40-litres bourbon casks, and a peated one matured in 40-litres Hungarian oak casks, both 55% ABV.
I must admit I was quite impressed by both of them. The unpeated showing quite a sweet and malty nose, followed by a floral, slightly peppery, woody taste on the palate, an overall depth of flavor that you won't really expect from such a young expression.
The peated one was also a bit of a surprise, much more smoky of course, but still showing this intensity in taste and this woody hints. A whisky with a lot of character, I could easily picture myself by the fire of a traditional Swedish timber house. If there's something I really like about whisky, it's definitely the way it makes you travel without even taking a step outside. In my opinion, whiskies have to reflect a territory, their homeland, and that is something you really get with Box whiskies. Glad I took a wee trip to Sweden without leaving my sofa !
Planning a trip to Sweden and interested in taking a tour of Box Distillery ? Follow this link to Drikkelig's visit review
Want to know more about Box ? Visit the Official Website