As a typical little frog, I'm more than proud today to introduce you to one of our national whisky gems, here, in France : Warenghem Distillery.
France has indeed a long history of distilling spirits, but until recently those were mostly made from fruits and herbs. Most people associate France with spirits like Cognac & Armagnac (made from grapes), calvados (made from apples) and pastis (made with anise), but a few distillers turned their attention to whisky quite recently. This is not too surprising since France is one of the largest whisky markets in the world ! For more technical details about French whiskies, visit WorldWhisky.com
Warenghem Distillery : the heart of Breton spirits for over 100 years.
At the end of the 19th century the Warenghem family, from the North of France, chose to settle on the banks of the Leguer, a coastal river running through Lannion, to found their Distillery. Initially specialising in the production of liqueurs, they carved out a reputation for quality in the field of spirits, particularly Whiskies, keeping the Breton tradition and skills alive. Its fame would soon spread beyond the borders of Brittany…

The Warenghem Distillery created the first Breton Whisky, WB, and the first Single Malt in Brittany, Armorik. Their thirst for constant innovation means that today they can offer you ranges of spirits that are full of character, like the inhabitants of this region steeped in the Celtic spirits : 

– Armorik Whisky
– Melmor Chouchen
– Diwall Beer
– Fine & Pommeau de Bretagne
– Liquors & spirits
However, despite the variety of liquid wonders produced in this small part of Brittany, I will only be focusing here on the Whisky range (yeap, trying to deserve my nickname…)
(
For those who might want to visit the distillery, Warenghem offers free guided tours over the summer period – whisky tasting included – Mid June until the end of August. More details on their website.)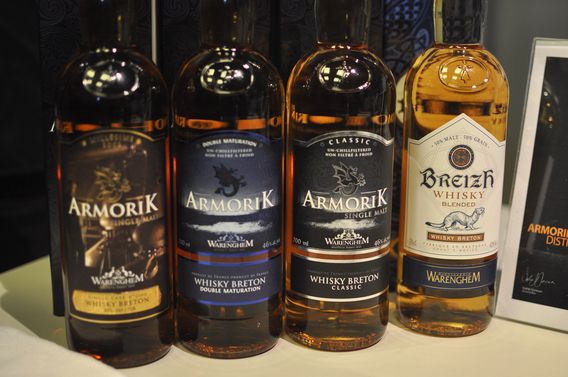 I tried to do my best to faithfully transcribe my feelings.
Tasting notes :
Breizh Whisy (Blended)
42 ABV
Nose :  Sweet vanilla notes, touch of caramel, and a really personal feeling remembering me the smell of Pastis brioche from my hometown in the very southwest of France (French references, get used to it…)
Palate : light, white fruits and citrus hints, quite smoky though.
Finish : sweet cereals, spicy, marine
Armorik Classic (Single Malt)
40 ABV
Nose : Fruity, pear, banana, touch of cinnamon, full of character, rich, malty sweet.
Palate : Peppery, cereals, the cinnamon touch still there, fruity sweetness predominates.
Finish : Warm and long with grilled cereals, spices and mature fruits.
Armorik Double Maturation (Single Malt)
46 ABV
Nose : Gingerbread, sweet apples, bit iodic (not really surprising when you think about the geographical situation of the distillery…). And another personal French reference that hit me at first sniff is the smell of caramelised well-cooked cannelé (little yummy pastries from Bordeaux).
Palate : some herbal, grassy, actually quite fresh (I would say even minty sometimes), ginger touch
Finish : Spicy with strong pepper notes
Armorik Maître de Chai (Single Malt)
47.3 ABV
Nose : Warm and smooth, malty, reminded me of clafoutis at some point (seriously…What's wrong with me and pastries today ?!)
Palate : Sherry oak, fruitiness…
Finish : dry..
It's actually pretty hard for me to put words on this one, it truly was my personal highlight of this tasting session and I would describe it as an "experiential" drink. It really provided me with emotions and happened to be a kind of rollercoaster of intensity in terms of taste. This whisky is telling its own story with smooth chapters and fruity lines, finishing on a dry but intense cliffhanger, only waiting for you to pour another glass of this liquid gold.
You know, it's the kind of whisky that you want to keep hidden in your cellar and only open it when you feel a bit down, 'cause you know it's just the right remedy to cheer you up.
Armorik Millesime 2002
56.1 ABV
Nose : Hot burn, sweetness, not as marine as the previous ones, candied fruits, vanilla notes, pains aux raisins (Chelsea buns or Danish patries), red fruits and floral notes.
Palate : big heat, grassy, herbal hints, hot, spicy, ginger notes
Finish : cloves, peppery, hot and spicy 
Must admit this one is a bit too strong for my young and sensitive ( x) ) palate but still acts as a big – but tasty – smack in the face, and a pretty good way to end this tasting session.
"The Breton way […] is to be passionate about whiskies and work really hard to make them to the best quality possible." 
David Roussier, Distillery manager.